Announcement primer: 2014 wing Theo Pinson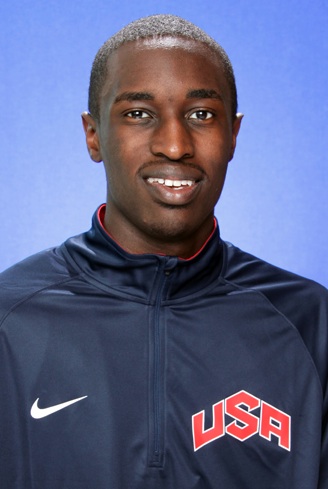 You may have heard that 2014 Wesleyan Christian Academy (NC) wing Theo Pinson will announce his college decision tomorrow afternoon at approximately 12:15 p.m. ET in front of friends and family.
It's been a while since Indiana has been involved in a high profile recruitment with some suspense leading up to an announcement, so here's a primer with all you need to know on the Pinson recruitment:
The Essentials
Forward, 6-6, 180-pounds, Wesleyan Christian Academy (NC), CP3 All-Stars
ESPN: 5-star (13); Rivals: 5-star (11); Scout: 5-star (18)
Schools: Duke, Georgetown, Indiana, Louisville and North Carolina
Visits: Indiana (official and unofficial), Duke (several unofficials), North Carolina (several unofficials), Georgetown (unofficial), Louisville (none)
The Primary Contenders
When word broke of Pinson's impending announcement via Dave Telep of ESPN.com, the five schools mentioned above were listed. So in theory, he's choosing from a handful of the top programs in the country. The reality is that this appears to be a two-team race between Indiana and North Carolina.
· The IU recruitment: The Hoosiers have recruited Pinson more diligently than anyone having already hosted him on an official visit for a primetime game against Michigan in early February. IU followed up that visit with several stops to watch him play in both the North Carolina state tournament and this spring on the Nike Elite Youth Basketball League (EYBL) circuit. We've listed Pinson in the top spot on our 2014 recruiting board for several months now and for good reason: He's been a high priority for Indiana.
· The North Carolina recruitment: The Tar Heel pursuit has been less consistent with the staff already having secured a verbal commitment from five-star wing Justin Jackson and also pushing for a commitment from five-star guard Rashad Vaughn. What can't be ignored, however, is the proximity of Chapel Hill to where Pinson has grown up (approximately 65 miles), the allure of staying home and playing for a state school that also happens to be a blue blood program and also the fact that he took at least four unofficial visits to UNC this past season.
The Timing
A couple of things could be driving the timing of the decision, which is a bit curious after Pinson recently said he would be trimming down his list soon.
· First, he may just have a good feel of where he wants to go and is ready to get it over with. There's little sense in continuing the process through the July evaluation periods and into the fall with all of the phone calls, texts and interview requests from media if your decision is already made. Sometimes you just know and that could certainly be the case with Pinson.
· Second, there are offers out to other players who could potentially nab an available scholarship and Pinson is hoping to lock in his spot.
The Fit
· At Indiana: Pinson has clearly been intrigued by the idea of filling a role similar to that of Victor Oladipo, who will be a lottery pick in next month's NBA Draft. Earlier this month in Dallas, he said the following when asked how Oladipo's ascent and development could play into his decision: "It does help (Indiana) just seeing how it took him from where he was to a lottery pick. He wasn't really a big-time player in high school. He was good and really athletic. But they took him to a whole different level."
· At North Carolina: The Tar Heel system is up tempo and an athlete like Pinson could certainly thrive in it. Even with Jackson already on board and J.P. Tokoto on roster (and potentially P.J. Hairston if he stays beyond next season), there will be minutes available at his position as the Tar Heels will lose Leslie McDonald after this season and seem to be targeting several guard/wing players in the 2014 class like Vaughn, Pinson, D'Angelo Russell, Devin Booker and Ahmed Hill.
Pinson highlights
How to follow the announcement 
We'll have a live chat tomorrow beginning in the late morning and continuing until Pinson's decision is announced. We'll also have a reporter on site gathering reaction and video.
Additionally, below are some Twitter accounts to montior and we'll also be sure to add any video streams if they become available between now and tomorrow.
ITH | Dave Telep | Inside Carolina | Michael Lindsey | WCA_FanSection

In closing, please remember this is the college decision of a 17-year-old kid. Please adhere to the comment standards that have been set forth over the past six years here on Inside the Hall regardless of the outcome.
Filed to: Theo Pinson