2016 big man Barret Benson no longer under the radar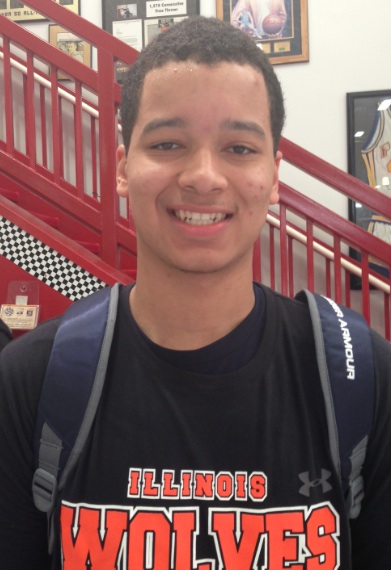 Barret Benson flew under the radar during his freshman season. His Hinsdale South (Ill.) High School team won only seven games and a coaching change was made. Not many scouts were paying attention to Benson.
That may soon change. Benson, a class of 2016 big man who plays for the Illinois Wolves 15-under AAU team, has drawn interest from several major programs in recent weeks, including Indiana. Benson will take unofficial visits to IU, Purdue, Michigan and Northwestern sometime in the near future, though dates have not been decided.
Playing for the Wolves, one of the perennial Illinois powers on the AAU circuit, will certainly attract more suitors for Benson.
"It's great. We've got a great team together," he said earlier this month at the Hensley Memorial Run-N-Slam in Fort Wayne. "Really good chemistry, we're playing together well. Our defense is what's winning our games right now, getting those stops, because we're so offensively talented that, as long as we can stop other teams, there's no doubt we'll be able to score."
The 6-foot-9, 237-pound Benson does not yet have a college offer, but he's also received interest from DePaul, Boston College, Dayton and Detroit, along with the four schools he plans to visit.
Benson attended Purdue's midnight madness before last season. His father, Cliff, played basketball in West Lafayette in the early 80's before playing four seasons in the NFL as a tight end.
"It's definitely really early on in recruiting right now," Benson said. "I think I should take my time deciding and find which school I want to go to. I would say academics is definitely the biggest thing I'm looking for."
Benson's cousin went to Indiana, so Benson has followed the program in recent years. He's been impressed by what he's seen.
"They're obviously a really good program, had a great season," Benson said. "Coach [Tom] Crean and his staff turned that program around and they're a really good team."
At this point in his development, Benson does the majority of his work with his back to the basket in the post. He's bigger than almost everyone he plays against — "It helps a lot," Benson said — so he hasn't been forced to move off the block too often.
That's something he hopes to change before this summer is over. Benson also mentioned he'd like to improve his quickness during this AAU season.
Filed to: Barret Benson