IU confirms addition of Evan Gordon for 2013-2014 season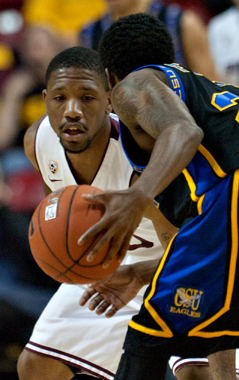 Indiana just sent out a press release confirming the addition of Arizona State transfer Evan Gordon for the 2013-2014 season.
Here's the full release:
BLOOMINGTON, Ind. – Indiana University men's basketball coach Tom Crean has announced that Indianapolis native Evan Gordon, a 6-2, 195 lb., guard who has scored 1,186 points in the first three seasons of his collegiate career, will transfer from Arizona State, enroll in graduate school and play one season with the Hoosiers. He will be eligible to play immediately.
Gordon graduated from ASU last week with a bachelor's degree in Interdisciplinary Studies (Business and Communication). He played one year with the Sun Devils and averaged 10.1 points, 2.9 rebounds, 2.2 assists and 1.3 steals. Four times last season he scored 20 points or better including a career-high 29 points against Sacramento State and a 28-point effort against USC. He started 25 of 35 games for the Sun Devils and had a 76 to 45 assist to turnover ratio in his one season in the PAC-12.
He began his collegiate career during the 2009-10 season at Liberty (Virginia) where he left ranked 26th all-time in career scoring for the Flames with 832 career points. As a sophomore, he finished eighth in the Big South in scoring at 14.4 points and also averaged 2.9 rebounds, 2.2 assists and 1.6 steals. As a freshman, he was a member of the Big South All-Freshman team when he averaged 12.0 points, 4.2 rebounds, 1.8 assists and 1.1 steals.
During his three seasons of college basketball, he has made 173 three pointers and shot 74.2 percent from the free throw line, averaging 95.6 free throw attempts per season.
Gordon attended North Central High School in Indianapolis, was a three-year starter for Coach Doug Mitchell and helped the Panthers to the Indiana 4A title game in 2007. He went on to graduate in 2009 from Hargrave Military Academy in Chatham, Virginia. He helped the Tigers to a 27-2 record and a runner-up finish in the National Prep Showcase Finals. During that year, he averaged 13.0 points and 6.0 assists per game for Coach Kevin Keatts.
Gordon's older brother, Eric, played one season at Indiana (2007-08) earning Big Ten Freshman of the Year and All-American honors after leading the conference and setting a Hoosier freshman record in scoring at 20.9 points per game. He later was selected seventh in the 2008 NBA Draft by the Los Angeles Clippers, where he played three seasons before joining the New Orleans Pelicans two years ago. He has averaged 18 points per game in five NBA seasons.
Evan is the son of Eric Sr., and Denise Gordon and also has a younger brother, Eron. Eric, Sr., was a three-year standout at Liberty from 1982-84 and currently ranks 16th all-time at Liberty with 1,154 points. Evan will pursue a master's degree in athletic administration/sports management.
The Gordon brothers will be the first siblings to have played for the Hoosiers since Phil Isenbarger suited up for the Hoosiers from 1978-81 and his brother, John, played three games in 1967-68. The Niles Brothers, Mike and Ben both played in the late sixties and in 1970.
Tom Crean on Evan Gordon
"We are excited to have Evan Gordon join our University and our program. Evan has been a productive and proven player throughout his college career. He can score, he makes his teammates better and is a clutch player. Defensively, his physical strength and speed have helped him be a strong individual and team defender. Evan will bring leadership, a work ethic and seriousness that will help make our program better."
"We are very excited about his desire to get his master's degree in athletic administration/sports management which is one of the top graduate programs of its kind. He has done an outstanding job academically during his career and we expect he will do the same here."
Evan Gordon Career Highs
Points: 29 (vs. Sacramento State, 12/1/12)
Rebounds: 8 (twice, last vs. Central Arkansas, 11/10/12)
Assists: 6 (at VMI, 1/2/10)
Steals: 5 (4 times, last vs. Central Arkansas, 11/10/12)
3FG Made: 6 (vs. Virginia Intermont, 11/12/10)
Minutes: 45 (vs. USC, 1/24/13)
Filed to: Evan Gordon