Derrickson looking for program that's "just like a family"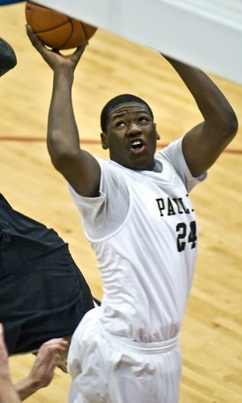 Indiana's recruiting efforts in the area known as the DMV (D.C./Maryland/Virginia) in the Tom Crean era have yielded talents like Victor Oladipo, Maurice Creek and Stanford Robinson over the last five years.
As arguably the most talent rich pocket of the country, it's no surprise that the Hoosier staff continues to recruit the area hard. One of the rising players in the area with strong IU interest is Marcus Derrickson, a 6-foot-7, 240-pound forward with a versatile skill set.
Playing against elite competition in the Washington Catholic Athletic Conference, Derrickson averaged a double-double as a sophomore — 13 points and 10 rebounds — and shot 84.3 percent from the free throw line. He was first team All-WCAC.
This spring and summer, he's playing up one year with Team Takeover in the Nike Elite Youth Basketball League (EYBL). Takeover also produced Oladipo, Creek and Robinson and is currently the only unbeaten EYBL team at 13-0.
"We set the tone of the game," Derrickson told Inside the Hall of his team at EYBL Dallas last weekend. "We start out by playing defense and our offense comes through after that. We all take pride in our defense. We work hard and will always continue to look to get better and improve different aspects of our game."
Indiana was one of the first schools to offer Derrickson a scholarship, but the Hoosiers aren't alone in pursuing him.
He's already got more than 15 scholarship offers and the list includes Maryland, Georgetown, North Carolina State, Virginia, Virginia Tech, Miami (FL), Rutgers, Pittsburgh, Villanova and others.
Derrickson took an unofficial visit with his high school coach at Paul VI Catholic (Va.), Glenn Farello, for IU's final home game with Ohio State and has been impressed with the player development that's taking place in Bloomington.
"It's big for me. I'm always looking to get better," he said. "That's what I do. I play games and look at things I can get better at and make my weaknesses my strength. Coach (Tom) Crean does a great job of developing players and getting the max potential out of them."
One thing that intrigues college coaches about Derrickson is his ability to step out and knock down shots in addition to his solid post game. He hit 35 three-pointers as a sophomore at Paul VI.
"I take advantage of mismatches a lot. I work hard and I show inside and out," Derrickson said. "My weaknesses right now are my ball handling, which I've been working on it, and my defense a little bit on faster guards. But I'm working on that right now."
Farello told Inside the Hall last winter that Derrickson has some similarities to Kevin Love in terms of his style of play.
"He's willing to bang and do the dirty work down low, but also step out and shoot," Farello said. "He's got great range out to 23, 24 feet. He's a tough, physical player. He's just a winner."
As far as recruiting goes, Derrickson says he doesn't have any leaders at this point, but has some criteria that he's looking for at the next level.
"A school that is going to help me get out of my comfort zone and help me be able to develop and become hopefully a pro," he said. "A school that's just like a family out there."
Chris O'Dell of Star Local News contributed to this story.
Filed to: Marcus Derrickson