Oladipo, Zeller among those on display at NBA Draft combine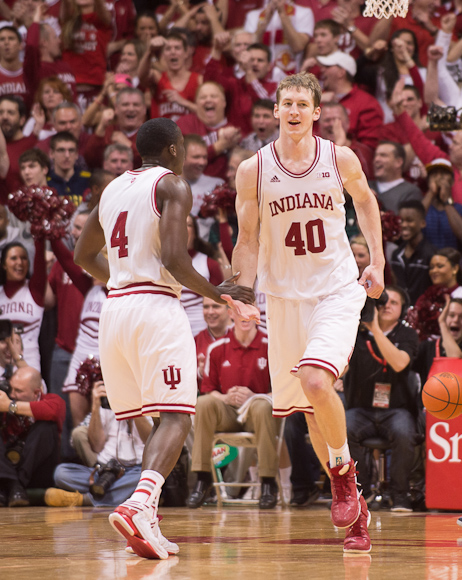 The NBA Draft Combine begins Thursday in Chicago, and former Indiana players Victor Oladipo and Cody Zeller will be among the players participating. Both Oladipo and Zeller announced last month that they would leave school early for the NBA.
Most teams have done their scouting of all the players entering the draft, and that is unlikely to change based on what they see on Thursday and Friday at the combine. But there are a number of key things NBA teams will learn, such as each player's official height and weight measurements and what their individual health status is at the present time.
"This is a lot of times the first time coaching staffs have seen these guys," ESPN's Chad Ford said Wednesday on a conference call. "First impressions can mean a lot. As far as what they learn from an actual scouting perspective, I don't think there's much there. The interview that they do with the players are much bigger because it's the first time they're allowed to sit down with the players and actually talk to them. They bring team psychologists in, they bring their team doctors to check them out medically.
"And then it's the only time that all of these players are going to be on the floor together. You get to see relative size, relative athleticism, relative skill levels compared to each other on the floor at the same time."
At this point, Oladipo has a higher stock than his former Indiana teammate. He is currently No. 6 on Ford's Big Board, and the potential is there for him to continue to rise given his work ethic and personality off the court.
One of the few concerns that remains with Oladipo is his size and how close he really is to the 6-foot-5 Indiana listed him at. The teams may learn this week that he is actually an inch or two shorter than that.
"He's a ridiculous athlete, plays with high energy, high motor, low maintenance guy," said ESPN's Fran Fraschilla. "He doesn't just want to be in the NBA but wants to be an NBA player. … I love him. He's gonna be a good, solid player."
Added Ford: "I'm a little bit higher on Oladipo than Fran and part of it's the work ethic, part of it's the way that he's improved. I think that factors in to NBA scouts decisions. Have you worked on your game? Are you improving every year? Are you going to be willing to put the work into the gym that's necessary? And I think no one has those questions about Oladipo.
"When you see how much he's improved from year to year, you can start to project that he's gonna keep working on that jump shot, that he's gonna keep tightening that handle and becoming better off the dribble. And then defensively, he's already arrived. He's a guy that can defend multiple positions in the NBA. I'm a little bit worried about the size, but he's going to have length and he's going to have explosive athletic ability. He's one of the three or four best athletes in this draft. And then he has a motor, and I really feel like that's an NBA skill. He goes hard all the time."
Ford talked to former Michigan guard Tim Hardaway Jr. at a workout earlier this week and asked him if he were selecting high in the draft whether he'd rather have Oladipo or Kansas' Ben McLemore (No. 2 on Ford's Big Board). Hardaway Jr. played against both Oladipo and McLemore last season.
"He praised both of them, but he said Oladipo, on both ends of the floor, was a nightmare for him," Ford said. "He was a nightmare on one end because you couldn't get what you wanted to do offensively. And then on the other end, he was so difficult to guard offensively because it's not just like he's gonna shoot jump shots or it's not like he's just gonna try to create offense by dribbling and isolation. He's constantly moving without the ball, he's going to be in there for offensive rebounds, he's everywhere. It was just an exhausting experience for him. I think that translates to the next level."
For Zeller, it's been much more of a mixed bag since he declared for the draft. The former Indiana center didn't play well in the NCAA Tournament, and he really struggled in the last game of the season against Syracuse.
Ford currently has Zeller at No. 11 on his Big Board. On Wednesday's conference call, both Fraschilla and Ford talked about the questions surrounding Zeller before they got to his positive attributes.
"With Cody, the thing I'm concerned about with him is he's a face-up post player, he gets pushed off his spot, he only took 24 jump shots all year," Fraschilla said. "But he's a great runner like his brother, and his brother was All-Rookie second team. Cody's size, his ability to run the floor, play with energy I think is his biggest strength."
The fact that Zeller didn't step away from the basket and shoot jump shots more often while at Indiana may hurt him on draft day. We often heard about Zeller's ability to shoot from the perimeter — he did win the team's 3-point contest at Hoosier Hysteria — but we rarely saw it in the games.
"I think the question is how he performs against length," Ford said. "I think that raises some serious questions about his ability to play center. He is being marketed now as a face-the-basket 4 at the next level. There are some question marks about why he didn't go back to Indiana and work on that and show that to the NBA guys as opposed to come to the draft and basically tell people, 'hey, trust us, I'm going to be able to make this transition to the next level.'"
Filed to: Chad Ford, Cody Zeller, Fran Fraschilla, Victor Oladipo