The Inside the Hall Mailbag: May 14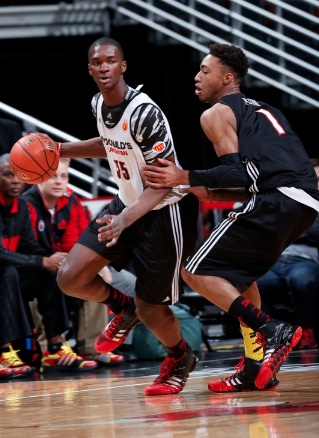 The Inside the Hall Mailbag is a collection of questions tweeted to us via Twitter (@insidethehall) and sent to us via our Facebook page. Submit your questions and we'll answer as many as we can.
@HopslamHoosier writes: how much should we take vonleh's four year player comments with a grain of salt? Or should we?
I'm not surprised by his comments. (You can read them here.) Crean has said several times that while he's not opposed to recruiting one-and-done players, he's also not looking for players who won't unpack their bags in Bloomington. It seems like Noah is coming into the situation with the attitude that he'll be in college until he's fully prepared to take the next step in his career. In other words, he's not viewing IU as a quick pit stop to the NBA. That's the attitude Crean covets when recruiting the top players.
Cody Zeller came to Bloomington with a similar attitude of staying for four years, but ended up leaving early because he was prepared to do so. I see the Vonleh situation in a comparable light. He's coming to college to be a student athlete, to win games and get better. If he has the opportunity to leave early and he feels he's ready, I think that's what he'll do. And who could blame him if that's what happens? But to answer your question, I believe he's genuine in his comments. — Alex Bozich
@mattyork1941 writes: how is austin etherington's rehab progressing? Will he be ready and have a significant role next year?
It sounds like Etherington is on track to be healthy for next season. Here's the latest from Tom Crean from a little more than a week ago: "Austin Etherington continues to make strides with his knee rehab, strength and jump shot," Crean tweeted. "His shooting was very impressive last Friday."
As for the role Etherington will play, I'm not sure I foresee him taking on a significant role. That's not to say he can't find his niche as a perimeter shooter, but he'll have stiff competition for perimeter minutes with guys like Will Sheehey, Jeremy Hollowell, Stanford Robinson, Troy Williams and Collin Hartman all vying for time. — Alex Bozich
@RealAdamJ writes: What impact do you expect from Perea and Jurkin next year? How big is another summer of conditioning for these guys?
Hanner Mosquera-Perea has been impressive in workouts this spring and the biggest thing for him this offseason is getting in the gym and taking on that 365 day a year mentality that Crean frequently references. If that happens, there's no reason to believe that Mosquera-Perea won't be a rotation guy next season. He has the talent and athleticism to do so. The suspension last season was a significant setback for him because he lost valuable time against several of IU's early non-conference opponents.
As for Jurkin, his foot injury hampered him throughout Big Ten season and if he is to contribute next season, getting healthy is the first thing on the checklist. — Alex Bozich
@MShlyank writes: how realistic is it to repeat as Big 10 champs?
The Big Ten will once again be a strong league next season, although it will likely take a step back from where it was this past season. Right now on paper, Michigan State looks like the favorite with Michigan and Ohio State right there behind the Spartans. Beyond that, the league looks fairly wide open with Iowa, Indiana and Wisconsin in the next tier of teams.
To answer your question, it's not very realistic that Indiana will repeat as Big Ten champions. In fact, it's probably a pretty fair to predict, barring injuries, that the league champ will come from one of those top three teams. — Alex Bozich
@EnglertEvann writes: how much will yogi and will need to step up depending on freshman?
Both players will be taking on much larger roles next season regardless of how good the freshman are from day one. For Will Sheehey, he's the lone senior on the roster at this point. That could change if Evan Gordon transfers in, but regardless, he'll be the only four-year player in the program. He's going to be counted on as a leader both on the floor in games and throughout the summer in helping to instill a work ethic on the incoming players.
As for Yogi, he'll also become more of a leader on the floor and could also take on more of a role as a scorer. That wasn't what he was asked to do as a freshman, but with the offensive production Indiana lost, the scoring will have to come from somewhere and Yogi is more than capable of picking up some of the slack. — Alex Bozich
Steven Harris writes: How does (Evan) Gordon compare to Abell?
Size wise, Remy Abell is a bigger guard. Abell is in the 6-3 to 6-4 range, while Gordon is closer to 6-1. Style of play wise, Gordon is much more likely to shoot from the perimeter as 59.2 percent of his field goal attempts came from behind the 3-point line. That's not to say he isn't effective at times going off the dribble and shooting the midrange or pull-up shot, but his role at Arizona State last year was largely based around shooting threes. I didn't see Gordon play last season at Arizona State, but Doug Haller of the Arizona Republic told me he was one of the team's better perimeter defenders. — Alex Bozich
Trent Gould writes: Do you think Luke can fill the shoes Cody has left behind? I think most have underestimated fish.
Fill his shoes? That's a lot to ask. Cody Zeller was a program-changing recruit both because he opened the door for others to consider Indiana and he was also an All-American who made others around him better. Fischer is a very good prospect who continues to improve, but comparing him to Zeller is unfair.
As for the assertion that he's been underestimated, I'll agree. He was the centerpiece of two straight undefeated state championship teams and won Mr. Basketball. Those are significant accomplishments. When I spoke to a national recruiting analyst lately about Fischer, he told me the thing he likes most about him is that while some of his peers leveled off this past high school season, Fischer continued to get better. That bodes well for his future. — Alex Bozich
Filed to: Twitter Mailbag