Elite big man Elijah Thomas talks IU, recruiting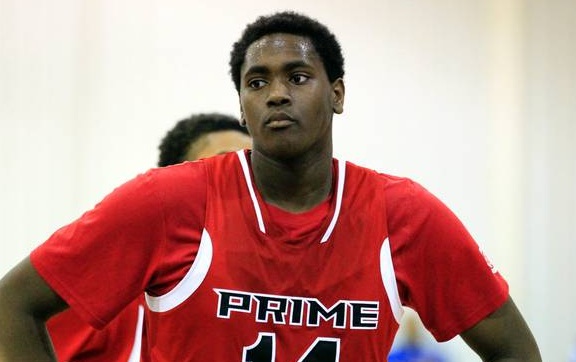 (Photo credit: Dallas News)
It was another big weekend in Nike's Elite Youth Basketball League play for five-star forward Elijah Thomas.
After averaging 15.5 points and 7.0 rebounds per game in EYBL session one in Los Angeles and 15.4 points, 8.2 rebounds and 2.8 blocks in session two in Hampton, the 6-foot-9, 235-pound big man continued his stellar play this spring in Dallas for session three.
Thomas averaged 17.5 points, 7.0 rebounds and 2.0 blocks as Team Texas Elite finished the weekend 3-1 and improved its overall record to 8-5 as it battles for a spot in July's Peach Jam. But rather than focusing on individual numbers, Thomas made it clear that he's a team-first guy.
"I wouldn't be able to do it without my teammates," he told Inside the Hall. "All my teammates, they get us the ball and we play together as team. When we play as a team, everybody shines."
As one of the most coveted post players in the class of 2015, the list of schools showing interest in Thomas is full of the nation's best schools.
Indiana started recruiting him earlier this year and offered a scholarship in late April.
"They told me I fit their program well," Thomas said. "They have a system but they feed their skilled players, so if you're skilled you can score the ball and play in a system that fits your game. I like that a lot."
Thomas, who plays at Prime Prep Academy in Texas, is taking his time with the recruiting process. He said he hasn't visited any schools to this point.
"A lot of schools are jumping out and expressing hard interest," he said. "You really want to find out who is really interested in you until June 15."
The June 15 date is when schools, thanks to NCAA rules enacted last summer, can begin unlimited telephone, twitter and text message contact with class of 2015 prospects. A barrage of contact is likely coming for Thomas on that date, but for now, he's focused on fine tuning his strengths and continuing to sharpen himself mentally.
"My strengths are scoring with both hands. Isolation and getting my team involved and being a leader," Thomas said. "Just keep working on my overall leadership and having a mental aspect of the game instead of just being into it physically."
With more than 18 months until he's eligible to sign a National Letter of Intent, Thomas has plenty of time to visit schools and figure out where he'll fit best. But he said he's already got a good idea of what he'll be looking for in a home at the next level.
"A big family," he said. "A system that you play and overall, just a team where everyone likes to be around each other all the time. Like a brotherhood."
Chris O'Dell of Star Local News contributed to this story.
Filed to: Elijah Thomas