2016 guard Eron Gordon eager to make name for himself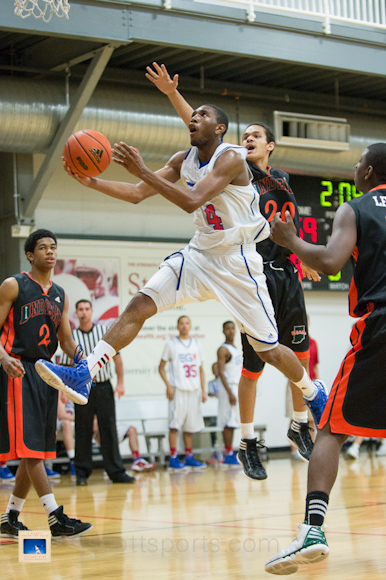 His family's name has been in the news in recent days because of his brother Evan's transfer from Arizona State and impending college decision, but Eron Gordon is a rising prospect eager to make his own name for himself.
Gordon, a 2016 guard from North Central High School in Indianapolis, is quickly gaining interest from a number of major college programs and continues to develop the jump shot that was often inconsistent during his freshman campaign.
Gordon said at last week's Spiece Run-N-Slam tournament in Fort Wayne that he had heard from Baylor, Michigan, Michigan State, Ohio State and Louisville since the end of his high school season and expects a few from that group to offer a scholarship in the near future.
Gordon already has offers from Indiana and Purdue.
"It's pretty special," Gordon said. "A lot of colleges are getting interested in me. I feel like it's going in a good direction."
Gordon, a 6-foot-2 guard, averaged 19.3 points and 3.6 rebounds per game for North Central last season. He shot just 34.6 percent (46-of-133) from 3-point range and and 68 percent (70-of-103) from the free throw line, but he has tinkered with his form lately and has seen positive results.
"At first, it didn't go in very much," Gordon said. "But I knew it was just all repetition. It's starting to go in a little bit more now. I feel like it's gotten a lot better. I'm keeping my elbow in more and getting a lot more lift on my shot. I put up a lot of shots. We have days where we shoot a certain amount and I just have to make a certain percentage."
Gordon said he still talks to Indiana on a fairly regular basis, but unlike some other recruits — like Hyron Edwards and Jalen Coleman — he did not take an unofficial visit to the Indiana campus while in Bloomington for the Adidas May Classic this weekend.
Gordon is likely to continue to garner new interest this summer, so he's in no hurry to look at any one school too seriously. He's well versed in how the recruiting process goes and has learned a great deal from the recruitment of his two older brothers, Eric and Evan.
"I feel like Eric and Evan both went through a long recruiting process and they tell me a lot of stuff," Eron Gordon said, "like don't fall into the games and to make sure you go to the best school for you."
Filed to: Eron Gordon