Verdell Jones III still chasing his professional dream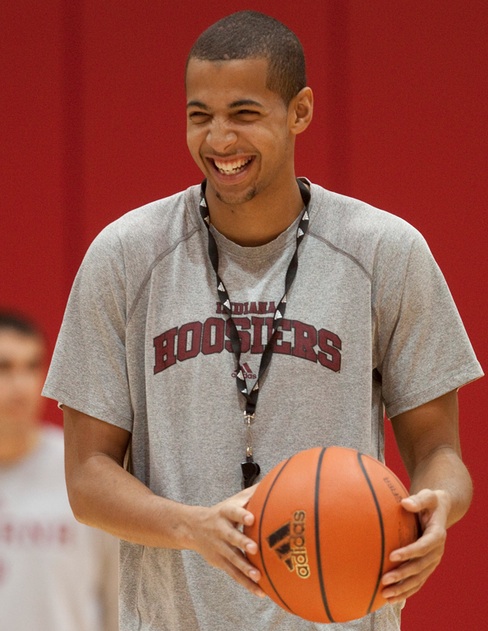 Verdell Jones III had a dream of making the NBA when he was a kid. It became much more of an attainable goal when he played at Indiana.
His NBA dream and goal seemed to be all but gone when he suffered a torn ACL against Penn State during the Big Ten Tournament of his senior season. But Jones isn't giving up yet.
The former Indiana guard is back in the United States after playing professionally in Japan this past season, and he's ready to take a serious run at the league he always dreamed of playing in.
"It's definitely one of my goals and dreams, so I'll definitely try to keep pursuing it as long as I can," Jones told Inside the Hall on Thursday. "If it doesn't work out then hey, it doesn't work out. But I'm definitely pushing it and reaching for it."
Jones is currently back home in Champaign, Ill. and he said he plans to start training around the country soon. His agent has set up workouts for him in Chicago and New York, and he said he hopes to join an NBA Summer League team sometime after the current season ends.
"I'm just working out and trying to get stronger," he said. "We'll see what happens."
While it may not be likely Jones lands on an NBA roster for next season, he's in a much better position to make one now than he was a year ago.
When Jones graduated from Indiana last May, he was still in the process of trying to recover from his injured knee. He signed a pro contract with Peristeri GS, a Greek team, in August, but the situation wasn't exactly ideal. The country went through serious financial woes, and Jones didn't feel secure for the long term.
"In Greece, it was a good league, but the money situation was terrible," Jones said. "You got paid late, first off, and when you did get paid, you got paid like half your check. It was stressful as far as that aspect, so I thought it was best for me to leave and go to a different country."
Jones returned home for a few weeks last December to weigh his options and decide on his next step. Eventually, he decided to accept a contract offer from the Oita Heat Devils in Japan.
Jones shined on his new team, and found the offensive game he had been missing since his sophomore year of college. Jones' coach allowed him more free reign than he'd had since he was in high school, and Jones relished the opportunity.
In 22 games for the Oita Heat Devils this season, Jones averaged 13.5 points and 5.2 assists in 23.1 minutes per game. He shot 49.7 percent on two-point attempts and 34.7 percent on 3-pointers, and Jones also attempted 134 free throws in the 22 games (6.1 per game).
"I was able to get the scoring aspect back to my game that I lost my junior and senior year," said Jones, who averaged only 7.5 points per game as a senior at Indiana. "I've been able to play more free than I have. I got to play like I did back in high school where I'm able to really push it and be free.
"I liked [Japan] a lot, played against a lot of good American players. It was usually American vs. American every time you play. I didn't really get matched up with too many Japanese players. But it was a good experience. The coach liked me a lot, and they really let me get my groove back from the injury. The best part was I got paid on time and my full amount. That's always good."
Most importantly, Jones has stayed healthy. He said he's had limited complications from his torn ACL injury, and he feels as good as ever.
"It's been amazing, I've been really healthy," Jones said. "Every now and then after games, the knee will get a little sore, but that's it. I started dunking again, which has really been a highlight of my recovery."
Because of the time difference in Japan and his busy schedule, Jones didn't get to watch many Indiana games last season. But he said he followed the team closely when he could, mostly through Twitter and the internet.
"I definitely tried to stay up and watch as many games as possible," Jones said. "Their regular season, I was very proud at what they were able to accomplish. It was disappointing to see them lose a little bit earlier in the tournament than what most thought, but I was still proud of their efforts."
Jones has also been inspired by the development of Victor Oladipo, who announced last month he would forego his senior season at Indiana and enter the NBA Draft. Jones remembers the player Oladipo was when he first stepped on campus and he knows how far he's come in three short years.
"Oh, I'm so happy for him," Jones said. "When Vic first got into college, he was just all athleticism and that was it. But seeing him bust his butt every day in practice and on his own outside of practice, you knew something was destined to be great for him."
Jones hopes something is destined to be great for him, too. But if the NBA doesn't work out for him this summer, Jones has other options. The Oita Heat Devils recently reached out to Jones' agent and offered to double his salary for next season. He'll likely receive other international offers, too.
So for now, he feels safe chasing his dream.
"The NBA is definitely something I wanna do," Jones said, "but if that doesn't work out, I'll go to the next best offer overseas.
"It does get tough, you definitely do get a little bit lonely over there. But you're getting paid to travel the world. That's never a bad thing. It does get difficult with the time difference and you're trying to communicate back home. But at the same time, a lot of my buddies are getting jobs and moving all over the country, too. I just think at this time in our lives, this is the best thing for me to do is to get paid, travel the world, and save up."
Filed to: Verdell Jones