A look at the potential impact of Evan Gordon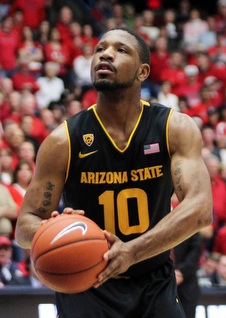 On Wednesday night during a teleconference with fans, Arizona State coach Herb Sendek announced that junior guard Evan Gordon would transfer for his senior season.
Gordon, the younger brother of former IU All-American Eric Gordon, averaged 10.1 points in 32 minutes per game last season for the Sun Devils and shot 34.7 percent on 3-pointers.
According to The Arizona Republic, Gordon graduates from Arizona State this week with a degree in interdisciplinary studies and could be eligible next season if approved by the NCAA for a graduate transfer waiver.
He came to Arizona State in the summer of 2011 after playing his first two seasons at Liberty, where he averaged 14.4 points as a sophomore.
Almost immediately after Sendek's announcement, reports began to surface that Indiana, which has just 12 scholarship players for next season, would be a potential landing spot for Gordon. His father, Eric Sr., refuted a report that surfaced late Wednesday that his middle son had already decided to transfer to Indiana. That report was later clarified to say that no decision was final. Gordon Sr. told Kyle Neddenriep of The Indianapolis Star the following:
"We'll start looking into some schools and checking into things. He just got his release today so we'll see which schools have scholarships available and what the rosters look like."
One other parameter given by Gordon Sr. was that Evan would transfer to a school within a 200-mile radius, which Indiana obviously falls within.
As intriguing as the potential addition of Gordon next season is for Indiana fans, few are familiar with how he fared for the Sun Devils and what his impact could be next season should he choose to come to Bloomington. On Thursday night, Inside the Hall talked to Doug Haller, the Arizona State beat writer for The Arizona Republic in Phoenix, to get answers to some of those questions.
Gordon's junior season at Arizona State was up-and-down as he started the first 25 games before being moved to a reserve role for the final 10. Overall, according to Haller, Gordon made a positive impact in Tempe despite some inconsistency.
"His main role was scoring. At first, he was kind of a volume shooter," Haller said. "He got off to a tough start. It kind of took him a little bit of time to find his role.
"He had some big games. He scored 29 against Southern Cal in an overtime game. He scored 20 points four times. He's a really good midrange guy. From two-point range he was about 45 percent. Really inside the arc, he had that floater."
Gordon also spent some time handling the ball and was one of the better defenders for the Sun Devils, too.
"They wanted another ball handler so they could just get the ball out and didn't have to look for their point guard and could go on either side," Haller said. "I thought he was a pretty good perimeter defender. Maybe their second best behind Carrick Felix."
The move to a reserve role for the final 10 games didn't really hurt Gordon's minutes, but his production did fall off as he averaged just 7.6 points off the bench.
"For the most part, moving to the bench and coming off the bench really affected his confidence," Haller said. "He never really got it back. He played well in the Pac-10 Tournament, but not as well as he had in certain stretches."
As for a potential role at his next school, Gordon looks like he'd be able to contribute at either guard spot. While he was solid inside the arc, 176 of his 297 field goal attempts were 3-pointers.
"Sometimes he had a tough time getting his shot because he's not real big for a two-guard," Haller said." He brought the ball up at times and he was fine with it. His assist-to-turnover ratio was pretty good and he took care of the ball. With his background, he knows how to play."
Filed to: Evan Gordon