Edwards recruitment has Big Ten feel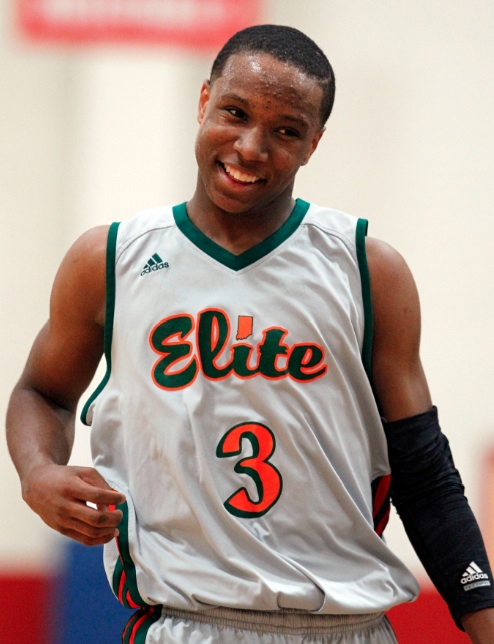 A little more than a year after receiving his first scholarship offer from Indiana, the recruitment of 2015 East Chicago Central point guard Hyron Edwards is centered around five Big Ten schools.
And that's fine by Edwards, who said on Friday at the 2013 Hensley Memorial Spiece Run-N-Slam Classic that he can see himself playing in the conference that was the nation's best last season.
The Indiana staff has continued to keep a close eye on Edwards as they watched him in both April evaluation periods — first in Dallas at the adidas Exclusive Run and then in Indianapolis at the adidas Spring Classic.
"I talk to Coach (Tom) Crean a lot. He just tells me to keep playing hard and keep fighting," Edwards said. "It's a great fan base and a great school. Coach Crean is a great coach."
The other four Big Ten schools in the mix — Illinois, Michigan, Michigan State and Purdue — also seem to be serious about Edwards.
The Illini and Boilermakers have offered and the Wolverines, who won't offer class of 2015 prospects until June 15, seem to be heading in that direction. He said he hopes to work in an unofficial visit to Bloomington when in town for the adidas May Classic and will be in Ann Arbor on June 1 for Michigan's elite camp.
"(Assistant) coach (LaVall) Jordan has been talking to me about it," he said of a potential scholarship offer from Michigan. "If I do get the offer, that would be pretty great."
Edwards is again suiting up for the Mark Adams-coached Indiana Elite 2015 this spring and summer. After struggling a bit early on as it incorporated another lead guard in Jalen Coleman, the group flashed its true potential over the weekend as it won the 16-and-under gold bracket at Spiece.
The role Edwards takes on for Indiana Elite is much different than with his high school team at East Chicago.
"High school, I don't really have a lot of threats on my team," he said. "I have to go get it myself and do everything. On the AAU circuit, I have a pretty great team. I try to get my teammates the greatest shots possible."
This past season, the 5-foot-11, 155-pound Edwards had a chance to experience the Indiana-Purdue rivalry up close as he was a guest of the Boilermakers in Mackey Arena on Jan. 30 when they were routed by the Hoosiers, 97-60. Edwards also visited Bloomington for Hoosier Hysteria last October.
"I like both of them. The rivalry is crazy," Edwards said. "It's pretty fun watching them go at it."
Edwards doesn't have a timetable for when he'll make a decision, but it's clear that Indiana has made a favorable impression on him to this point. When asked if he could see himself playing at Indiana, his answer was simple.
"I think so."
Filed to: Hyron Edwards