2016 guard Vijay Blackmon making his own name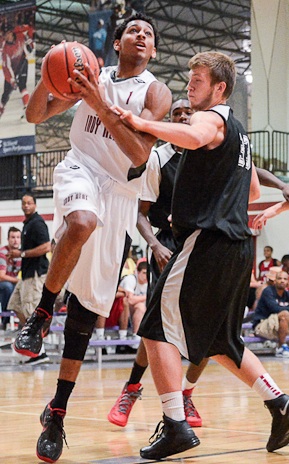 The easy on-court comparison for class of 2016 guard Vijay Blackmon is his older brother, James, who committed to Indiana back in the fall of 2010 and is a member of the program's 2014 recruiting class.
They share similar builds and can do many of the same things on the floor.
But it might not be the best comparison off the court according to their father, James Blackmon Sr., their high school coach and a former McDonald's All-American who played at Kentucky.
"It's so funny, you can have three or four kids and they can have different personalities," Blackmon Sr. said over the weekend at the Spiece Run-N-Slam in Fort Wayne. "James and Vijay are totally different. Vijay has some qualities that James doesn't have. James has some qualities that Vijay doesn't have."
"I'd say I'm more of a laid back type of guy," James Blackmon Jr. says. "Vijay is always talking when he gets home about his games non-stop."
As a freshman at Class 2A Ft. Wayne Leurs, Vijay joined his brother in the starting lineup and helped lead the school to a sectional crown. He averaged 12.5 points, 3.4 rebounds, 2.5 assists and 1.4 steals per game.
Next year, he'll play at Class 4A Marion, which recently hired Blackmon Sr., an alum, to rejuvenate a program that hasn't had a winning season since 2008-2009. It's a challenge the whole family is looking forward to.
"It's a good opportunity for my dad and I want to play for him," Vijay noted. "So I'm going to go with him."
"It's going to be an emotional feeling having your own kid play in the same gym that you played in," Blackmon Sr. said. "Within that atmosphere and that environment, I knew how it was when I played. We had 6,000 people in that gym and the tradition was really strong. Marion is a little down now. If we can generate some energy back in there, it will be pretty exciting."
The growth of Vijay's game could be a big factor in just how far the Giants can come next season.
At 6-foot-2 and 165 pounds, adding strength in the offseason is an important goal for him and one that his older brother says he's attacked head on so far in the offseason.
"He's been developing ever since the high school season got over, working on his shot and working on his strength," Blackmon Jr. said. "I think he's gotten a lot stronger as you can see out there."
Vijay got the opportunity to travel with the Spiece Elite Youth Basketball League (EYBL) team for the April evaluation periods to gain some experience in that environment, but was back on the court last weekend at the Spiece Fieldhouse playing with his 15-and-under team.
"I'm the main scorer," he said of his role with the Spiece Indy Heat 15-and-under group. "When we play a lot of competition, they look for me to be the scorer on the team.
"It was fun to watch my brother (in EYBL) and watch how he takes over and watch the older guys like JaQuan (Lyle). I learn a lot from them."
The recruiting process is still taking shape for Vijay, who received his lone scholarship offer to this point from Indiana back in October. He's also received interest from Purdue and visited Notre Dame this past season as the Irish beat eventual national champion Louisville in five overtimes.
It's clear the early IU offer is enticing for the young point guard.
"IU is very appealing. It's a good opportunity for me," he said. "If I get the opportunity to go there, I would love it."
While the comparisons between the brothers will likely continue for the foreseeable future, Blackmon Sr.'s hope is that his sons continue to learn from one another.
"Does Vijay shoot the ball better than James? Percentage wise, I don't know," he said. "But Vijay gets to the rim pretty quick. Hopefully Vijay can pick off some of his weaknesses from James and try to develop his overall game."
Filed to: James Blackmon Jr., Vijay Blackmon