2015 guard Jalen Coleman continues to build interest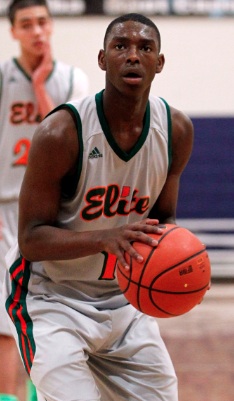 Cathedral guard Jalen Coleman has been on Indiana's radar for quite some time and the Hoosiers have continued to recruit him steadily since offering a scholarship in July of 2011.
The 6-foot-3, 180-pound guard continues to pick up interest from a number of programs around the country. Coleman holds offers from Cincinnati, Clemson, Illinois, Indiana, Notre Dame, Ohio State, Purdue and Providence and has interest from Duke, Michigan, Michigan State and others.
His interest in Indiana, the first school to offer him, remains high. Coleman was in Bloomington in February for Indiana's ESPN College GameDay win over No. 1 Michigan, and he and his family have always been impressed with Indiana coach Tom Crean.
"I talk to them as much as possible, as far as what I need to work on and things I need to improve on," Coleman said after an Indiana Elite 2015 pool play game at the Hensley Memorial Spiece Run-N-Slam last weekend in Fort Wayne.
Added Piankhi Lands, Coleman's father: "Crean is cool, he's super cool. He gave me some good information the last time I saw him. I asked him what some of the things were that he needed to improve on and he gave me some good information. He's solid in our book, man, he's definitely solid in our book."
Coleman has visits to Michigan and Michigan State planned for early next month and Duke has also piqued his interest after they had a chance to see him play last high school season.
"He was really coming to see Trey Lyles, but he was really impressed with Jalen and kind of mentioned that he wanted to start recruiting him," Lands told Inside the Hall recently. "He wanted to see what his grades were gonna be like at the end of the semester, but said that he would be out to look at a couple of his games. I didn't believe him at first until they called the coach the following day and said they were really interested and wanted to know what AAU team he was going to be playing on."
Duke has not offered a scholarship, but his grades have held up to this point. Lands said his son currently has a 3.0 GPA, but at this point, it sounds like Coleman is still early in the process.
"[I'm] analyzing schools, taking things apart, seeing what they have to offer," he said.
But at the same time, Lands said Coleman doesn't plan to take too long to make a decision.
"I don't think it's going to be senior year, I doubt if it'd be that late," he said. "Probably his junior year he'll be making the decision on what school he'll be going to because it's good to get that done, especially being an upperclassman so you can just focus on your team."
Filed to: Jalen Coleman