One-on-one with 2014 commit James Blackmon Jr.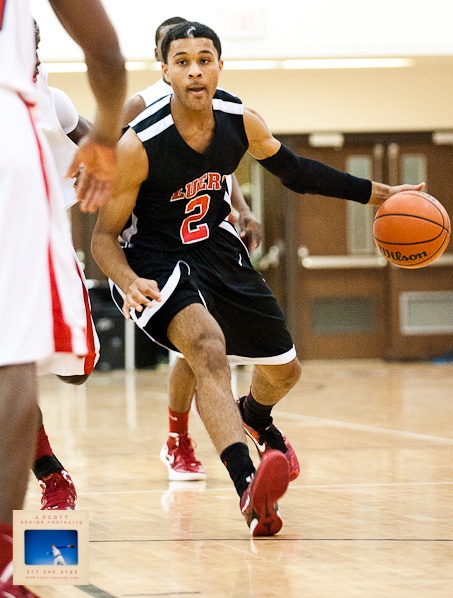 James Blackmon Jr. is putting together a fantastic spring with Spiece Indy Heat as the class of 2014 Indiana commit has proven himself as one of the nation's most efficient perimeter scorers in Nike Elite Youth Basketball League (EYBL) play.
At this weekend's Hensley Memorial Run-N-Slam Classic in Fort Wayne, Inside the Hall went one-on-one with Blackmon Jr. as he watched his younger brother Vijay.
A full transcript of our Q & A is available below:
Inside the Hall: First off, let's talk about Vijay. How has he developed over the past year and what similarities do you see between the two of you?
James Blackmon Jr.: Him and I have similar games because we can play the one and the two. He's been developing ever since the high school season got over, working on his shot and working on his strength. I think he's gotten a lot stronger as you can see out there.
ITH: As far as how you're feeling now, obviously you had a big junior year coming off the injury. Are you to the point now that you don't even think about the fact that you were hurt?
JB: Yeah, I really don't even think about it. When I'm on the court playing, I really don't feel any different. Off the court sometimes I think about how long I was out. Now that I'm back, it's just great because I had to sit out and watch. That's kind of helped me be more hungry on the court.
ITH: Besides the rehab and getting stronger, is there anything else that, from being out all of that time, you were able to get better at?
JB: Being on the sidelines, I thought that I was going to come in and be a little rusty and my timing was going to be off, but actually when I came back I was better at that. That kind of surprised me.
ITH: You've played well in the first two EYBL sessions. Just talk about what's been going well for you there and what you'd like to do better as well.
JB: It's a totally different game coming from my high school team where I had to score 40 for my team to be in it. But on this team, there are a lot of guys that can score the ball so that just means that guys can't double team and it's just one-on-one. It's a lot easier for me to get my shot off.
ITH: Your shooting percentages have been really high. Is that just a matter of you looking for the right shots?
JB: I'm always aggressive but I think that with the team I'm on, I just take better shots and mostly I've been making all the shots I've been taking. That's just something I wanted to work on in the offseason is getting better with my percentages and not missing.
ITH: What are your thoughts on the move to Marion? Excited or is a little bittersweet to leave some people behind here as well?
JB: It's kind of bittersweet but I'm also excited because knowing my dad, he puts me and my brother in great situations so we just want to follow him because he's basically been everywhere that we want to be. He's been a McDonald's All-American and that's where I want to be. He's thinking that this is a big opportunity for me.
ITH: It's been two and a half years since you committed to Indiana. Looking back on that decision and making it when you did, do you still feel good about it?
JB: Yes because getting offers and all that would have been nice, but really to me, you can only go to one school and this is the school that I think fits me best. That really hasn't changed since I committed.
ITH: What do you look forward to most about college?
JB: Just seeing how college life is, being a freshman and playing basketball on the road in the Big Ten conference is real exciting.
ITH: You know many of the guys coming in this year like Noah Vonleh and Troy Williams. Obviously Indiana is losing a lot, but how do you think it's all going to come together next year?
JB: I think the guys that they have are going to come in and make a good impact. They're losing a lot but I think with Troy, Noah, Stanford Robinson and all of those guys coming, I think they can fill the spots. It might be a little bit different team but I think they'll still be great with Coach Crean coaching them. I've been talking to Noah a little bit and he's real excited.
ITH: How has your relationship evolved over the years with the coaching staff? I know Kenny Johnson is there now and what are your thoughts on him?
JB: Kenny and I probably have a better relationship than I did with the last assistant coach that was there. He's real cool and we talk all of the time. He's a nice guy and we have a good relationship.
Note: Video of Blackmon from the Run-N-Slam is available in the premium forum.
Filed to: James Blackmon Jr.