2016 guard Quentin Goodin excited by Indiana offer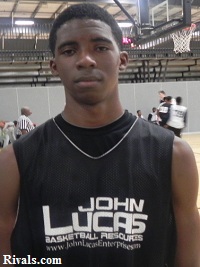 After extending a scholarship offer to 2014 guard Dion Wiley on Sunday, the Indiana staff remained active on Monday afternoon with an offer to one of the top guards in the class of 2016.
Quentin Goodin, a 6-foot-2, 165-pound point guard from Campbellsville (Ky.), was watched closely by the Indiana staff at Boo Williams last month and received an offer today from the Hoosiers.
Goodin visited Bloomington in February for Indiana's 83-55 win over Purdue, an experience his father says was beneficial in evaluating how the Indiana program is run.
"It was a good experience. They sat us right behind the bench so we actually got to feel like we were in the game," Chris Goodin told Inside the Hall. "We got to see how coach (Crean) interacts with the players, how he coached the players, how intense and involved everything was. And the atmosphere was really good. Quentin really enjoyed it."
The offer was the third for Goodin as the Hoosiers joined Northern Kentucky and Western Kentucky in offering early.
But several high majors have also expressed interest, including Louisville, Kentucky, Purdue, Tennessee, West Virginia and others.
"It's very early, but he's interested in IU," Chris Goodin said. "He enjoyed the visit and he's very happy that a school like that is taking the time to recruit him. He's very, very excited that he received the offer from them."
Goodin will have a busy summer playing for his travel team, Hoop Dreams, and he'll also head west to Colorado this later month to try out for USA Basketball's 16U developmental team.
He'll also look to hone in on his point guard skills in the offseason, according to his father.
"Right now, he's really starting to learn a lot about being a point guard," Chris Goodin said. "He's had the ball in his hands most of his life so that's where he's played. He's really learning how to be a point guard. He's focusing on making sure he has a really good midrange jump shot. That's kind of lost at the moment in basketball. That's a very important part of his game. We're also working on his 3-point shooting so he can be a triple threat guard."
Filed to: Quentin Goodin