2014 five-star guard Dion Wiley talks Indiana offer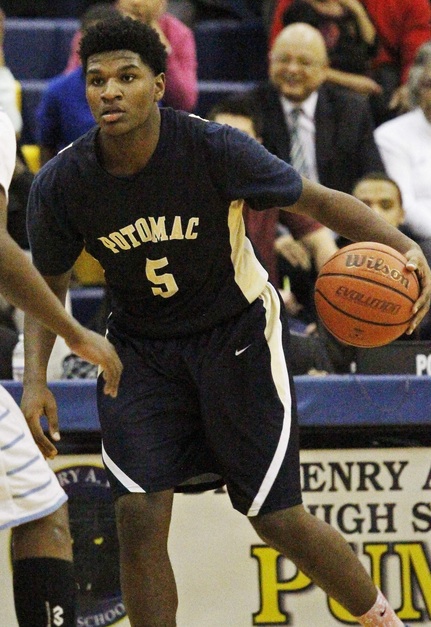 Indiana scouted class of 2014 Potomac (Md.) guard Dion Wiley in last summer's July evaluation period, but the Hoosiers hadn't been mentioned with the five-star guard in recent months.
That's because the word on Wiley had been that he didn't want to go far from home for college, which is no longer the case.
"There was a point where I didn't want to leave (home)," Wiley told Inside the Hall on Monday afternoon. "But then I see that being away would probably be a good thing to do, too."
With that bit of information, Indiana has firmly entered the mix for Wiley, the No. 22 prospect overall in his class according to ESPN.com. Tom Crean offered him a scholarship on Sunday.
"The main thing they talked to me about was they didn't want me to think they were just now coming aboard," he said. "They wanted me last year, but the rumor was that I wanted to stay home.
"My relationship with them isn't that strong, but it's going to build."
As a junior, he led Potomac to the Maryland 3A final and averaged 17.9 points, 8.3 rebounds, 6.4 assists and 3.2 steals per game. He shot 52 percent from the field and 76 percent from the free throw line.
His hot shooting has carried over into the spring, where he's hit 30-of-60 of his 3-point attempts in Nike's Elite Youth Basketball League for 9-0 Team Takeover. He credits his efficiency to teammates.
"The percentages part is from having great teammates who find me when I'm open and get me the ball for high percentage shots," Wiley said.
Wiley said five schools — Cincinnati, Florida, Georgetown, Maryland and Miami (FL) — have recruited him the hardest to this point, but he expects Indiana to make a strong push.
If he takes a trip to Bloomington to see the campus, it will likely be an official visit. Two important factors in picking a school will be style of play and the potential to play early, he said.
"They (Indiana) shoot a high 3-point percentage and they score the most points in college. I think I really would fit in," he said. "I don't have anywhere that I want to go, particularly. I'm just looking for somewhere that I can excel academically and excel on the court."
One other aspect of the Indiana program that's intriguing to Wiley is the player development. The Hoosiers will likely be the only program with two lottery picks in this June's NBA Draft.
All-American Victor Oladipo is one of those potential draft picks and he's from Upper Marlboro, which is just 16 miles away from Oxon Hill.
"They've told me Victor's work ethic is very high and he was always in the gym," Wiley said. "Kenny has told me that Tom Crean is all about player development. Victor wasn't really shooting a lot when he got to Indiana, but they let him shoot and score the ball and now he's going to be a top five draft pick."
Filed to: Dion Wiley