Emerging 2016 big man Caleb Swanigan talks development, recruiting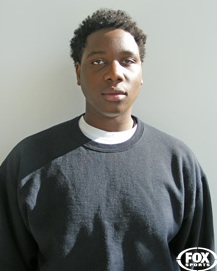 Standing 6-foot-8 and weighing 260 pounds at 16 years old, it's hard for Caleb Swanigan to blend in on the basketball court.
Swanigan, who plays at Homestead in Fort Wayne and for two Spiece AAU teams, is putting together a fantastic spring. At the 15-and-under level, he's virtually unstoppable at his size. And at the 17-and-under level, he's a valuable contributor on one of the top Elite Youth Basketball teams (EYBL) in the country.
This weekend at the Bill Hensley Memorial Run-N-Slam Classic at Spiece Fieldhouse, Swanigan pulled double duty and ran with both clubs.
"Just playing with both teams makes sure I'm in shape," Swanigan told Inside the Hall. "Cardio is a really important thing. I'm always running, wearing weight vests. It simulates playing more than one game back to back so I'm ready to play."
Swanigan also plays offensive tackle for Homestead's football team and has already had inquires from SEC powers like Alabama, Auburn, LSU and Mississippi.
His preference in college, however, is to suit up on the hardwood.
"I'm supposed to keep growing. The cutoff is 6-foot-8," he said. "If I get any taller, I'm not playing football my sophomore year, I'm just going to play basketball. I'm getting recruited for football, but I don't know how it's going to go. I prefer basketball."
His play at the first two EYBL sessions in Los Angeles and Hampton turned heads and his recruiting picture for basketball is beginning to take shape. He said Michigan State, Ohio State, Purdue and Georgetown have all expressed interest and Indiana has been in touch via questionnaires.
Swanigan said playing up this summer should help keep his development steady as he matches up against the nation's elite in the EYBL.
"The EYBL, it really helps me learn to go against athleticism, "he said. "Because I'm not a high flyer, it teaches me to use my body better so I can get my shot off. I watch a lot of Zach Randolph because he plays more my brand of basketball.
"When you play up, it just lets you know you have to be stronger with the ball. When you play at the lower levels, since the game is so much faster at the higher level, you feel like everyone else is at slow motion."
Although he's already big enough to play in college, Swanigan believes he's still growing and has hopes to end up a few inches taller and more trim.
"My goal is to be 6-foot-10 or 6-foot-11 and 270," he said. "But with a lot less body fat."
Filed to: Caleb Swanigan