2015 forward Carlton Bragg "very excited" by IU offer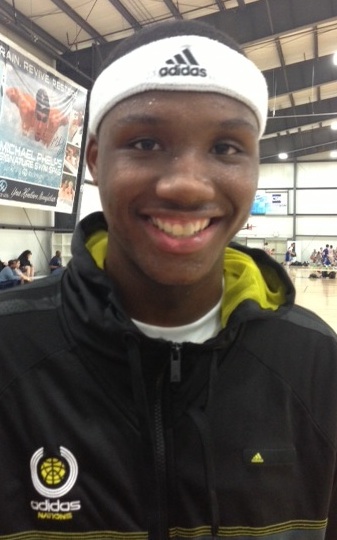 Carlton Bragg was one of the top prospects at last October's John Lucas Midwest Invitational in Louisville, Kentucky and at the time, he had just started to hear from Indiana.
That interest, which had been building through the high school season, culminated in an offer last week after Tom Crean watched Bragg, a 6-foot-9, 200-pound forward, at the adidas Hoop Classic in Wadsworth, Ohio.
At this weekend's Bill Hensley Spiece Run-N-Slam Classic, Bragg reacted to his latest offer.
"I was kind of glad. I was very excited," he said in an interview at SportOne in Fort Wayne. "It was another offer. They like my style of play, how I run back on defense and my motor."
The Hoosiers joined Cleveland State, West Virginia, Illinois and Ohio State as early offers for Bragg, who is ranked the No. 24 prospect in the 2015 class according to ESPN.com. His ESPN profile also lists offers from Cincinnati, Missouri and Texas.
Kentucky, Duke, DePaul and Wisconsin have also expressed interest.
At the Lucas Camp, Bragg was primarily a mid-range and in player, but he added the 3-point shot to repertoire during the high school season at Cleveland Villa Angela St. Joseph.
"I've always been an inside player," Bragg said. "Towards the middle of the (high school) season, that's when I started. I made two threes in practice, and (my coach) said I should start shooting threes, and that's when I really focused on it."
He's still relatively early in the process, but Bragg said he's got an idea of what he's looking for in a school.
"Someone that can welcome me," he said. "Do I like the style of play? Are they fast-paced? Someone just to look after me."
Bragg's profile should continue to rise this summer as he tours the AAU circuit with the Ohio Basketball Club, an adidas program. Known as a long, gifted athlete who excels in transition, he's got a few new wrinkles to his game he's looking to show off.
"How can I shoot the ball, dribble, my defense, how I can check guards and just play defense, mostly," he said.
Filed to: Carlton Bragg