Is Indiana a top 25 team heading into next season?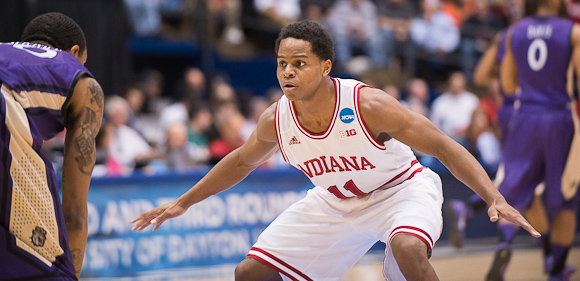 A year ago, Indiana was a consensus top three team in most of the early rankings for the 2012-2013 season.
The decisions of Christian Watford and Cody Zeller to return to school coupled with other returnees like Jordan Hulls, Victor Oladipo and Will Sheehey and a talented recruiting class made the Hoosiers a popular pick to rise to the top of the polls and compete for a national championship.
The outlook isn't quite as optimistic for 2013-2014 as Zeller and Oladipo have declared for the NBA Draft, Hulls and Watford have graduated and as a result, Indiana will be one of the nation's youngest teams with just two true upperclassmen in Sheehey and Austin Etherington.
With the passing of the NBA Draft early entry deadline, preseason top 25 polls are beginning to trickle out and despite significant departures from a Big Ten championship team, Indiana is included in most of them. The most bullish prognostications come from NBC Sports, which has IU at No. 15 and ESPN.com's Jason King:
20. Indiana Hoosiers: This Hoosiers team won't be anywhere near as good as the unit that won last season's Big Ten title while spending a large chunk of the season ranked No. 1 in The Associated Press poll. But that doesn't mean Indiana won't be salty in 2013-14. Point guard Yogi Ferrell (4.1 assists) is the lone returning starter after Cody Zeller and Victor Oladipo entered the NBA draft, but forward Will Sheehey earned valuable minutes off the bench, and coach Tom Crean couldn't be more excited about the progress of freshman forward Hanner Mosquera-Perea.

The X-factor will be how quickly Indiana's highly touted, six-man signing class adapts to the college game. Headlining the group is Noah Vonleh, who is rated third among power forwards in the country by ESPN.com.
CBS Sports slots Indiana in at No. 24 while Luke Winn of Sports Illustrated has the Hoosiers at No. 25.
King's colleague at ESPN, Andy Katz, doesn't believe the Hoosiers are a top 25 team headed into next season (or even in his top 37):
Indiana Hoosiers (My pick — unranked; Jason's — No. 20): The Hoosiers are back and will again compete for a top spot in the Big Ten and nationally in the coming years. But Indiana lost too much star power in Victor Oladipo and Cody Zeller, as well as 3-point threats Christian Watford and Jordan Hulls, to put it in the preseason top 25. Role players return and the recruiting class will include quality pieces or potential headliners, such as Noah Vonleh, but in this poll, putting IU in the top 25 is a bit generous.
Less optimistic on Indiana is statistics guru Dan Hanner, who didn't have the Hoosiers in the top 25 of his line-up based projection model released back in early April or the post draft deadline edition, either. He explains the omission:
Indiana: The Hoosiers have a lot of good pieces, but the model doesn't like how they fit together. It concludes based on last year's substitution patterns that Yogi Ferrell, Jeremy Hollowell and Will Sheehey will see plenty of action. And they just aren't the most effective offensive players. Ideally the younger players will see a lot of playing time early, and some of them will become stars, but it should be a transition year.
Regardless of how you feel about preseason polls in early May, they are still an interesting basis for discussion with Hoosier Hysteria over five months away.
There's certainly no shortage of talent on next year's roster, but plenty of questions remain on how quickly the freshman — particularly Noah Vonleh, Luke Fischer, Stanford Robinson and Troy Williams — can adapt to college and who will assume the leadership role (Will Sheehey and Yogi Ferrell seem to be the top candidates) following the loss of so much experience.
Filed to: 2013-2014 season preview