Indiana "at the top" of 2014 guard Ahmed Hill's list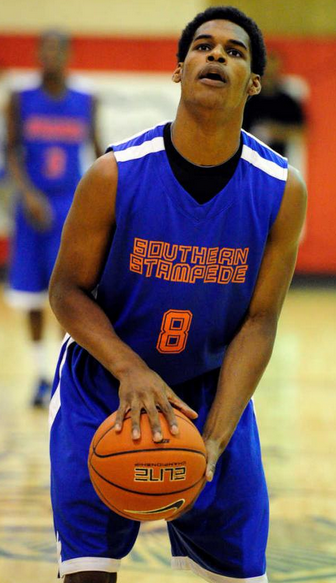 Indiana was the first school to visit 2014 combo guard Ahmed Hill at Aquinas high school in Augusta, Ga. last September, and the coaching staff has developed a good relationship with Hill ever since then.
The Hoosiers offered the 6-foot-4 guard a scholarship after watching him at last April's Boo Williams Invitational in Hampton, Va., and Indiana remains high on Hill's list because of his relationship with Tom Crean.
"They are definitely somewhere at the top," Hill told Inside the Hall on Monday night. "We talk probably twice or three times a week, just texting coach [Steve] McClain, coach Crean and coach [Kenny] Johnson. My interest level in them is very high because me and [Crean] have got a great relationship."
Hill, who is the No. 25 player in the 2014 class according to ESPN.com, said his conversations with Crean are rarely about basketball but more often about life. He said that's important to him going forward because he wants to go to a school where the coach serves as a father figure.
"I love the bond that me and coach Crean have," he said.
Hill has a long list of schools still after him — Kansas, Connecticut, Florida and Marquette are among them — and he said his recruitment is still "wide open" at this point. Hill has not yet taken a visit to Indiana, but he said he's "planning to."
"I don't know any dates yet, though," Hill said.
Hill's Southern Stampede AAU team struggled this past weekend at the EYBL event in Hampton, but he did average 14.8 points and 3.4 rebounds per game. When asked what he'd like to improve the most this summer, Hill listed his defense, ball handling and aggressiveness.
At this point, Hill doesn't know when he'll make his college decision. And with the AAU season just beginning, it's hard to imagine it will come anytime soon.
"I used to say early, but I don't really know right now, just at the right now," Hill said. "I don't really have a date right now."
Filed to: Ahmed Hill