2016 Florida forward Juwan Durham attracting high majors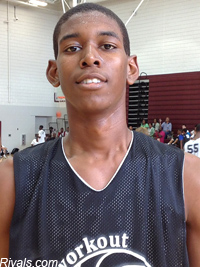 Joe Fenlon didn't have many expectations for the impact Juwan Durham would make as a freshman at Tampa Prep. After winning a state championship in 2011-2012, the plan was to ease Durham into a rotation at what Fenlon called a "nice, leisurely pace."
Durham had different plans.
The 6-foot-9, 180-pound forward led Tampa Prep in scoring (14.0 points), rebounding (9.0) and blocked shots (2.5) in his first high school season and is picking up interest from several high major schools, including Indiana.
He was named a second team freshman All-American by MaxPreps.com last week.
"We never really threw him the ball," Fenlon told Inside the Hall on Tuesday afternoon. "He's got uncanny timing. He's a great offensive rebounder. He got a lot of points off of stickbacks. He was certainly not our number one option. We let him develop at his pace and didn't expect a lot out of him. Obviously we expected some things out of him, but we didn't expect him to come in and score 14 or 15 a game for us as a freshman.
"We thought we'd bring him along at a nice, leisurely pace. As he got comfortable in the system, he just started to take off."
The Indiana interest started last fall when associate head coach Tim Buckley inquired about Durham and has continued into this spring. Florida, Florida State, Miami, Texas, Butler, Louisville and South Florida have also shown interest.
Given his size and ability to score in a variety of ways, Durham's national profile should rise even further this spring and summer on the AAU circuit, where he plays 15-and-under with Tampa Ambassadors and 17-and-under with Team Breakdown.
"He's a kid who is very versatile," Fenlon said. "He's not necessarily a back to the basket guy, but he can score inside. He's a good athlete, has good ball handling ability and a good jump shot. His versatility is what sets him apart from kids his size."
Durham isn't seriously thinking about his college plans at this point, but has a voice who has been in his position who can lend some helpful advice. Casey Sanders, a 1999 McDonald's All-American who attended Tampa Prep and Duke, stops in frequently to talk to Durham.
"He comes in all the time and sits down and talks to Juwan and about the process that he went through," Fenlon said. "It's good to have someone that's been through it and not just me talking to him."
With Tampa Prep losing players like Josh Heath (South Florida) and Adonis Rwabigwi (Furman) to graduation, Durham will take on an even bigger role as a sophomore. Fenlon said adding strength will be a major offseason focus for his rising star.
"He's got to gain some size. He's 6-9 and about 180. He gained 20 pounds during the school year. He is still thin. However, that doesn't stop him from trying to go inside and compete."
Filed to: Juwan Durham