2015 guard Prentiss Nixon: Indiana "would be a great program to be in"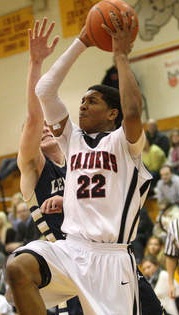 Prentiss Nixon tried to ignore Tom Crean on the sideline when he worked out at his Bolingbrook High School in Illinois last week, but it wasn't easy.
This wasn't your average college coach.
"It was a great feeling," Nixon told Inside the Hall on Sunday night. "Sometimes I try to just block out the coaches watching so I just play my game and don't press, but I know that IU is back on the map. They went from four and 12 win seasons to 30-plus win seasons.
"Coach Crean has really changed this around and it would be a great program to be in."
Nixon, a 6-foot-1, 160-pound point guard, took an unofficial visit to Bloomington last fall. Colorado State and Southern Methodist are the only schools to have offered Nixon a scholarship at this point, but Indiana is among a list of other schools that have expressed interest.
He listed Michigan, Iowa, Creighton, Southern Miss, UCLA, Northern Illinois, Northwestern, Arizona and Oregon State when asked what schools had contacted him.
Nixon plays for the Illinois Wolves 16-under AAU team, and has played well in the first couple of events this spring in front of college coaches.
He had a team-high 18 points in a semifinal win over the LV Prospects on Sunday afternoon in the Jayhawk Invitational in Gardner, Kansas. Two of his AAU teammates, 2015 guards Roosevelt Smart and Jordan Ash, have also drawn interest from Indiana.
The Wolves won the Jayhawk Invitational and Nixon drew this praise from Rivals.com: "At about 6-foot-1, Nixon can run point or he can slide off the ball. He's strong with the ball, he has a pretty good first step, and he can knock down a jumper."
When asked where he'd like to improve the most this summer, Nixon said: "Shooting and getting to the basket. Also, working on the pick and roll game."
Filed to: Prentiss Nixon