2014 four-star guard Phil Booth updates recruitment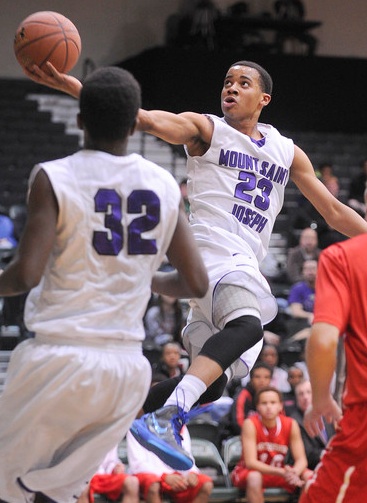 Indiana has been recruiting 2014 Mount St. Joseph (Md.) guard Phil Booth for some time now and his interest in the Hoosiers remains high.
Tom Crean has talked about recruiting year-round winners and Booth certainly fits that description. Mount St. Joseph finished his junior season 31-8 as Booth averaged 16 points, seven rebounds and five assists playing alongside Ohio State signee Kameron Williams in the backcourt.
And his travel team, Team Takeover, is 9-0 through the first two Nike Elite Youth Basketball (EYBL) sessions and well on its way to qualifying for July's Peach Jam.
Indiana has recruited Team Takeover heavily under Crean and Kenny Johnson with Maurice Creek, Victor Oladipo and most recently, Stanford Robinson, products of that program.
The 6-foot-3, 170-pound guard took an unofficial visit to Bloomington for Indiana's win over Michigan on ESPN's College GameDay and is still high on the Hoosiers.
"I'm still very interested, yeah," Booth told Inside the Hall on Sunday night. "I don't really have a list put out, but if I had one, they'd probably be up top. I've been in contact with them a lot."
Booth is ranked 35th in the 2014 class by ESPN.com. He didn't shoot the ball particularly well for Team Takeover this past weekend, but he averaged 12.2 points, 3.2 assists and 2.6 rebounds in 19.6 minutes per game in five wins.
Team Takeover is the lone remaining unbeaten team in the EYBL.
Booth has said in the past that the Hoosiers have recruited him as a shooter, which would make sense with Yogi Ferrell still likely to be manning the point guard position next season.
But rather than worrying about his offensive game, Booth said his focus is elsewhere this spring and summer.
"I need to tighten up my defense," Booth said. "It's been pretty good, but I still need to tighten it up some more and help my teammates on that end."
Booth also has offers from Maryland, Georgetown, Villanova and Xavier, among others. He told Inside the Hall that he plans to make his decision sometime in the fall.
(Photo credit: Baltimore Sun)
Filed to: Phil Booth