Indiana announces 2013 Tailgate Tour dates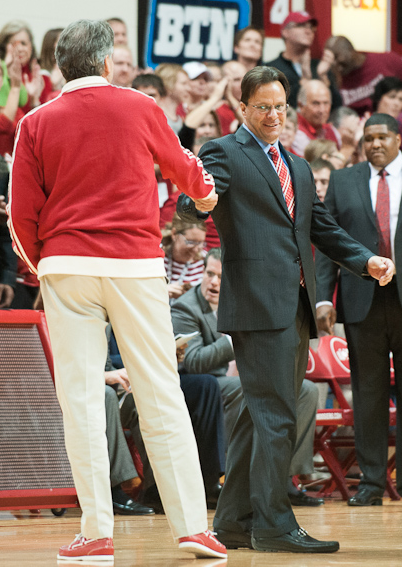 Indiana Athletics announced dates and times for the 2013 Tailgate Tour on Monday. Here's the complete release from IU media relations: (Note: Tom Crean is scheduled to appear in Jasper, Indianapolis and Starlight.)
BLOOMINGTON, Ind. — The IU Varsity Club has released the schedule for the annual, summer IU Athletics Tailgate Tour, presented by Smithville. The 2013 tour features seven stops; five head coaches; Vice President and Director of Intercollegiate Athletics Fred Glass; and sportscaster Don Fischer.
The Tailgate Tour allows Hoosier fans to support IU Athletics and learn about the success of student-athletes both on and off the field. It also allows IU's head coaches to provide insights on the 2013-2014 athletic seasons.
"There are so many fans that bleed cream and crimson," said Glass. "And, IU's fans have been so tremendous this year in their support of the Hoosiers. Student-athlete success would not be possible without their support. That's why we are really looking forward to hitting the road again this year to show our appreciation and share insights on what to expect this fall."
Head coaches featured on the tour will include: Tom Crean (men's basketball), Curt Miller (women's basketball, Sherry Dunbar (volleyball), Kevin Wilson (football), and Todd Yeagley (men's soccer). Each of the seven 2013 Tailgate Tour stops will include one or more of the featured head coaches.
"Tailgate Tour events are great opportunities for fans to connect with each other and build on IU's excitement and energy," added Glass. "We've got a lot of great events planned on the tour and can't wait to see a ton of Hoosiers, both young and old."
Each Tailgate Tour event will feature a reception or meal and program. Event times and prices vary for each event. Guests will also have an opportunity to purchase 2013 football season tickets at each tour stop.
The Tailgate Tour is organized by the IU Varsity Club, IU Alumni Association and the I Association. It is sponsored in part by Visit Bloomington.
The complete schedule is available after the jump.

Complete details on each stop: Ft. Wayne, Evansville, Jasper, Indianapolis, Jeffersonville, Chicago, Bloomington.
Filed to: 2013 Tailgate Tour, Fred Glass, Tom Crean