2016 forward De'Ron Davis "very interested" in Indiana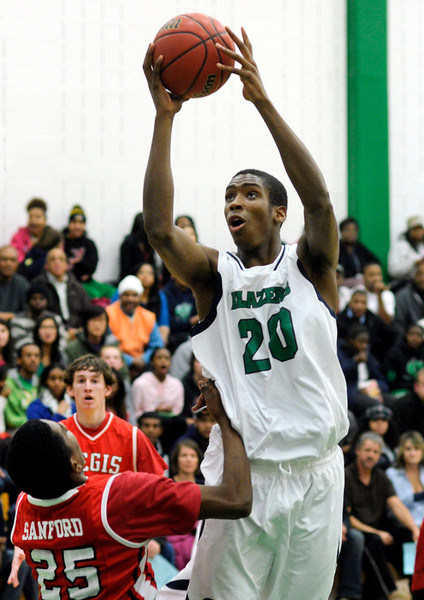 It didn't take long for Indiana to notice De'Ron Davis.
The Hoosiers were the first to offer Davis a scholarship last July, and it's safe to say he's an early priority for Indiana in the 2016 class.
Associate head coach Steve McClain was in Denver to watch Davis play with his Colorado Hawks 16-under team on Friday at the Mile High Classic, and Davis noticed. The Hawks fell in Sunday's championship game by four points.
It was the second straight weekend McClain watched Davis as the Hawks were in Dallas for the adidas Exclusive Run for the first April evaluation period.
"I'm very interested in them," Davis, who plays at Overland High School, told Inside the Hall on Sunday night. "It was pretty exciting to see them there. It's cool to have them after me.
"Indiana was my first offer. It does mean a lot, but right now I'm not really focused on any of my offers or schools that are on me right now just because I have a long journey and I'm trying to stay focused on the task at hand."
Davis, a 6-foot-8, 220-pound forward, is one of the top ranked rising sophomores nationally and has continued to develop his game.
Last fall, he was invited to USA Basketball's Developmental National Team mini-camp in Colorado Springs. Several IU targets participated with Davis, including Tyus Battle, Bryant Crawford, Marcus Derrickson, Eron Gordon, Marcus LoVett, Malachi Richardson, Elijah Thomas and Diamond Stone.
He provided Inside the Hall a brief summary and analysis of his playing style for those who haven't seen him play.
"I'm an all-around big man," Davis, who will turn 17 in November, said. "I can shoot, dribble, I can pass. I do think I have to work on my motor and trying to stay in the whole game instead of coming out at certain points or key points in the game. And ball handling is another thing I could probably get a little better at.
"But I like how I'm an all-around player. Most people think big men can't play on the wings or do a lot of the stuff that I can do."
Davis said throughout his school season this year and early in the AAU season he has drawn double and triple teams in the post, comparable to what Cody Zeller saw when he was at Indiana. Davis said he is getting much better with his perimeter shot and wants that to be a major part of his game going forward.
"When they double and triple team, I can step out to the 17-footer, knock that down, step out to the 3, knock that down," Davis said. "And I also can take my man off the dribble."
Davis admitted he doesn't know much about the Indiana program at this point, but he's noticed the attention the Hoosiers coaching staff has paid to him in the last year.
(Photo credit: Denver Post)
Filed to: Deron Davis