2014 guard Brandone Francis calls IU offer "a blessing"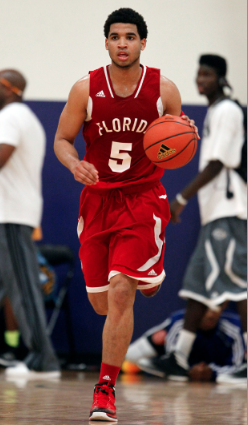 Following his MVP performance in the 17-and-under division at last weekend's adidas Exclusive Run in Dallas, 2014 Arlington Country Day (Fla.) guard Brandone Francis has seen his stock rise significantly over the past week.
A 6-foot-5, 200-pound guard who can score and handle the ball, Francis was tracked closely by associate head coach Steve McClain in Dallas and Tom Crean watched him on Wednesday at high school.
On Thursday, the Hoosiers extended a scholarship offer to the rising guard, who plays AAU for Florida Elite.
"It's a dream. I never thought I'd have a scholarship offer from Indiana," Francis told Inside the Hall. "I think it's the hard work that I've put in the gym. People didn't really know about me.
"I showed people that hard work pays off and that hard work beats talent when talent doesn't work hard. It's a blessing."
Originally from La Romana, the third largest city in the Dominican Republic, Francis came to the United States in the ninth grade and was not ranked by any of the major recruiting services coming into last weekend.
That is expected to change quickly, but Francis believes that his game still has plenty of room to grow. He missed time with a knee injury and wrist injury over the past year, but is now fully healthy.
"The sky is the limit. I want to be great," he said. "I want to show people that I'm better than a lot of players [ranked] in front of me. I just want to show what I can do, go to college, get my degree and make my mother proud. I just want to show everybody what I can do on the court."
A lengthy list of schools have expressed interest and offered scholarships, but Francis said five are standing out at this point — Cincinnati, Connecticut, Florida, Indiana and Miami (FL).
"Indiana is a great program," Francis said. "They were number one in the nation. [Coach Crean] was in my gym two days ago. It's amazing to have coaches in the gym watching you play."
Filed to: Brandone Francis