2015 point guard Bryant Crawford remains high on IU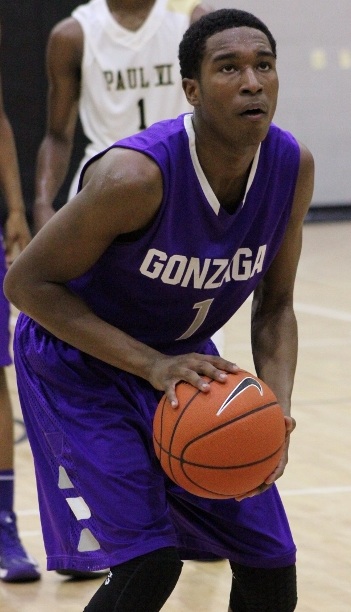 Indiana's recruiting presence in the D.C.-Maryland-Virginia area, also known as the DMV, has been strong since Tom Crean arrived in Bloomington in the spring of 2008.
It's only grown stronger over the past 11 months with the hiring of assistant coach and recruiting coordinator Kenny Johnson. One player the Hoosiers have made a priority from D.C. in the 2015 class is Gonzaga Prep's Bryant Crawford.
At 6-foot-2 and 175-pounds, Crawford had the opportunity to take over the point guard duties this past high school season after Nate Britt, a North Carolina signee, transferred to Oak Hill Academy for his senior season.
Crawford handled the responsibilities well, averaging 8.6 points for a team that finished 27-5 and went undefeated in WCAC regular-season play.
After missing his freshman season with a fractured tibia, it was a chance for the young guard to show he was capable of being a leader.
"I tried to be more vocal and give my teammates constructive criticism," he told Inside the Hall of his sophomore season at Gonzaga. "We fell a little bit short and didn't finish how we wanted to, but everything else was good."
With a strong summer of AAU with Team Takeover in 2012 and his play at Gonzaga as a sophomore, recruiting interest has picked up for Crawford. Maryland recently offered, joining Indiana, Georgetown, Connecticut, Seton Hall, SMU and Penn State, among others.
Indiana was one of the first offers for Crawford and remains high on his list.
"They're recruiting me pretty hard. I talk to them often. I saw them at open gyms, practices and games," Crawford said. "The coaches there have showed they believe in me and they want me a lot. They have faith in me and just want to see me improve and become better as a player and as a person."
He's already taken a pair of unofficial visits to Bloomington. The first was last August when IU offered a scholarship and the second was for Hoosier Hysteria, which was an experience that made an impact.
"The fan support and how the alumni show support," Crawford said when asked what stood out about Hoosier Hysteria. "Just the atmosphere and how the players enjoy playing for the school and in Assembly Hall."
Crawford, who is ranked the No. 18 prospect nationally in his class according to Scout.com and also participated in a mini-camp for the USA Basketball Developmental National team last fall, said not all of his conversations with the IU staff focus on basketball.
"They normally just ask me how I'm doing, how my grades are doing," he said. "If they come to a game, they just say to play my game and don't do anything special. They just want to see me go out there and make my teammates better."
While the recruiting process is still in its early stages for Crawford, it's clear Indiana is a major player.
"They're one of the schools recruiting me the hardest," he said. "They've been there since they offered."
Filed to: Bryant Crawford