After monster junior season, Blackmon Jr. looks forward to big summer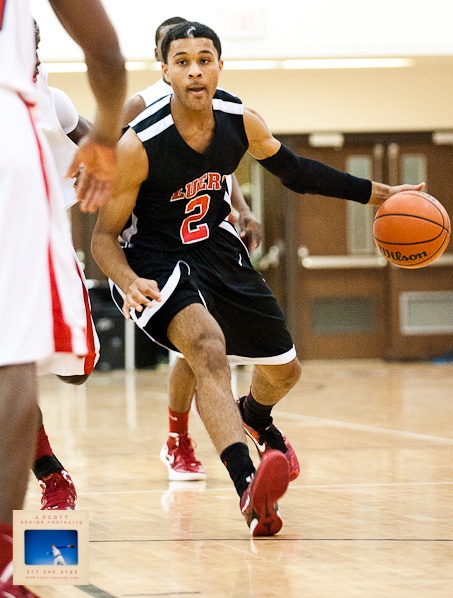 Indiana will have several capable scorers on its roster next season and a few good outside shooters. But the Hoosiers will likely lack a true all-around scorer who can create offense in a multitude of ways.
That's what they'll get when James Blackmon Jr. arrives on campus with the class of 2014. Blackmon Jr., an Indiana commit currently attending Bishop Luers High School in Fort Wayne, is a lethal offensive threat, and he can create from nearly anywhere on the court.
Blackmon Jr.'s outside shooting continues to improve — he was 10-of-23 from beyond the arc in four games at the Nike EYBL session one in Los Angeles last weekend — and he has always possessed to ability to get to the rim and score. When Blackmon Jr. gets to Bloomington, the ability to shoot the 3-pointer could be what sets him apart.
"The 3-point shot is always something I've been good at, probably one of the best parts of my game," Blackmon Jr. told Inside the Hall. "I think at IU I'll be an all-around scorer and my 3-point shot will be something that people will know me for."
If there was any doubt Blackmon Jr. has fully recovered from the torn ACL he suffered in February 2012, he wiped those away with a terrific junior season. Blackmon Jr. averaged 33.4 points per game and led Luers to a sectional championship.
Last weekend in Los Angeles in front of Tom Crean and assistant coach Kenny Johnson, he averaged 19.0 points and 4.8 rebounds in four games and shot 53 percent from the field.
He said he's still working a bit on his explosiveness, but otherwise feels good about his game.
"I'm pretty healthy there," Blackmon Jr. said of his knee, "but there's always things that I look for to improve because if I'm not working on my knee strength it can always happen again. I always try to keep that in mind, that I have to keep doing things that prevent injury."
Blackmon Jr., ranked 47th by ESPN.com in the 2014 class, made his college decision all the way back in September of 2010. Now that he's committed, though, he's tried to play the role of recruiter when he sees other Indiana targets at various AAU events.
The Hoosiers are currently targeting Dante Exum, Theo Pinson and Goodluck Okonoboh, among others, in that class.
"Me and Theo Pinson are actually kind of good friends and every time I see him I just see what he's thinking about it and just throw some more details in there," Blackmon Jr. said. "I really don't know [if he'll end up at Indiana]. I feel like he's looking at his options and he knows that IU's a good choice, so I think it'll be in his top for sure."
Blackmon Jr.'s father, James Blackmon Sr., will reportedly accept the coaching job at his alma mater, Marion High School, and is expected to take James Jr. and his younger brother, Vijay, with him.
"I don't really know if we're going for sure yet," Blackmon Jr. said. "If that happens, then that's just something I'll have to go for and accept the change. I think it'll be a good change if that happens."
Filed to: James Blackmon Jr., Theo Pinson