2015 guard Malachi Richardson a high priority for IU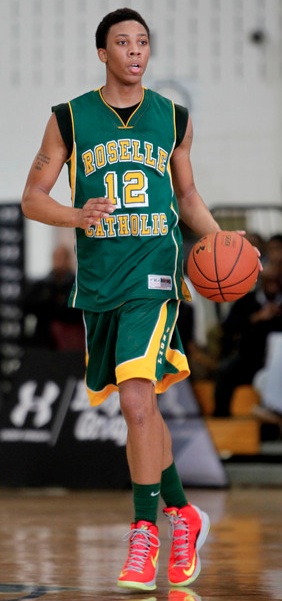 Indiana spent a considerable amount of time recruiting class of 2015 Roselle Catholic (NJ) guard Malachi Richardson during the high school season and the pursuit has intensified this spring.
Richardson, a 6-foot-6, 180-pound wing, is regarded as one of the top shooters nationally and helped lead Roselle to the NJSIAA Non-Public B championship and the 2013 NJSIAA Tournament of Champions title.
With the on-court success has come attention from a slew of high majors, including Indiana, Kansas, Ohio State, Georgetown, Maryland and Miami (FL), to name a few.
But no school is pushing harder than IU.
"They've been recruiting me heavily," Richardson told Inside the Hall. "I watched them a lot this past season. I love the coaching style and the way he [Tom Crean] coaches and everything he does with his program. I love the way they get up and down and feed the bigs. But also, they still run sets through their guard play."
Indiana offered Richardson in early December and watched him several times during the high school season including a mid-January game at Roselle and also at the Flyin' to the Hoop in Dayton, Ohio.
Richardson, who is ranked No. 20 nationally by ESPN.com and averaged 15.3 points, 4.6 rebounds and 3.2 assists per game as a sophomore, noted that he continues to build a strong relationship with Crean and assistant coach Kenny Johnson.
"My relationship is great with both coaches. I give them calls every few weeks," he said. "We keep in touch. We talk about a lot of different things — the program, the campus and different things like that."
Richardson played the state tournament with an injured wrist, which he didn't discover was fractured until after the season. He's currently in a cast, but expects to return in time for the third Nike EYBL session, which takes place May 10-12 in Dallas, Texas. Richardson will play for Team Final.
When he returns, he hopes to show his well-rounded game.
"I would say my jump shot is a big part of my game," Richardson said. "But I'm also working on getting to the basket, putting the ball on the floor a lot more than I did and also playing better defense and rebounding."
Indiana has recruited high character kids since Crean took over the program in the spring of 2008 and Richardson is no exception, according to his high school coach, Dave Boff.
"The president of our school referred to him the other day as a 'saint,'" Boff told Inside the Hall earlier this year. "I don't know if he actually reaches that status, but he's just as nice a kid as you'd ever want to see. He comes from a very good family, Mom and Dad are involved in his life, and you can tell he's been brought up well. He does all the right things, says all the right things, and is just really a pleasure to be around."
One aspect of the Indiana program in particular that appeals to Richardson is the player development.
The Hoosiers are expected to have two lottery picks in June's NBA Draft and one of those projected selections, Victor Oladipo, came to Bloomington as an under recruited athlete and will leave as an All-American. Richardson said he hopes to get a closer look at the program and the school this summer on an unofficial visit.
"It shows that if I do go there, I have a good chance of getting a lot better and even maybe going to the next level," he said.
Filed to: Malachi Richardson