Williams wins MVP as IU signees prevail in Derby Festival Classic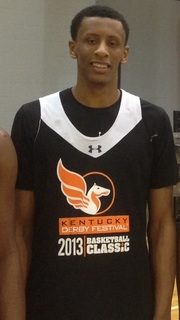 LOUISVILLE, Ky. — Troy Williams scored a game-high 21 points and captured MVP honors as the black team, featuring five Indiana signees, won the 2013 Derby Festival Basketball Classic 124-113 Friday night in Freedom Hall.
Williams shot 9-of-13 from the field, hit both of his 3-point field goal attempts and also had five rebounds, four assists and a block.
It was the 40th year for the event, which drew 10,205 fans, including many IU supporters.
The black team trailed 68-64 at halftime, but took control early in the second half as Williams set the tone with seven quick points.
Two other IU signees — Devin Davis and Luke Fischer — also scored in double figures. Davis finished with 14 points and eight rebounds and Fischer added 12 points, six rebounds, three steals and two blocks.
Collin Hartman, who committed to Indiana in November of 2010, had seven points, four rebounds and two steals and Stanford Robinson, chipped in six points, four rebounds and four assists.
In total, the five Indiana signees scored 60 of the black team's 124 points.
Indiana has been well represented in the game in recent years with Cody Zeller, Victor Oladipo, Maurice Creek, Christian Watford, Jordan Hulls, Austin Etherington, Hanner Mosquera-Perea and Jeremy Hollowell among the players from last year's Big Ten championship team who previously participated.
Filed to: Devin Davis, Luke Fischer, Troy Williams