A closer look at Remy Abell's decision to transfer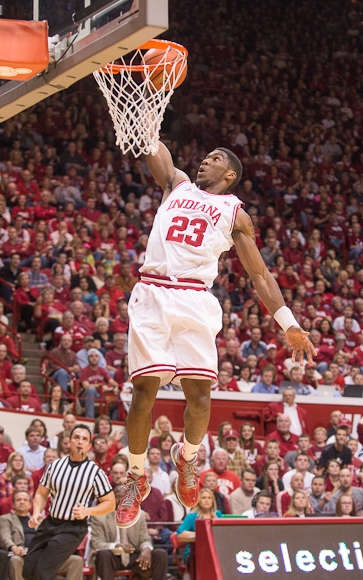 Much of the talk surrounding Indiana basketball throughout the season centered on the Hoosiers' six-man 2013 recruiting class and the fact they oversigned by three heading into next season.
But in the span of only four days, that took care of itself as Victor Oladipo and Cody Zeller declared for June's NBA draft and sophomore guard Remy Abell announced he would transfer to seek more playing time.
Abell's decision is an interesting one, and leaves the Hoosiers with even less experience heading into next season. Abell wasn't necessarily a major contributor in his two years at Indiana, but he was often the second man off the bench this season and played well at times. Abell is a fearless player who really helped Indiana on the defensive end but was often inconsistent on the offensive side. He shot just 32.4 percent from the field in Big Ten games as a sophomore.
Even though he'd be an upperclassman next season, Abell wasn't likely to make the Hoosiers' starting lineup. Incoming freshman Stanford Robinson seems a more likely candidate, and if Indiana wants to play a bigger lineup, it could even play Will Sheehey at the two-guard position.
But still, Abell's role on the team figured to grow significantly if he made offseason improvements. He could have been looking at in the neighborhood of 20 minutes a game at an elite program. But Abell may be seeking a starting job and a more significant role somewhere else.
From my perspective, it's disappointing to see Abell go. He's going to have to sit out next season instead of potentially playing a significant role for Crean and the Hoosiers. He's a good kid and a solid player, but maybe he just didn't feel comfortable at IU. You can't blame him for looking elsewhere if that's the case.
"Being at Indiana has been the best two years of my life," Abell said in a release. "I love the school, the program, the fans and I want to thank everyone for their support. The coaching staff has been great to me and I couldn't ask to have had better teammates while I was here. I am going to miss everyone, but I just feel at this time a fresh start and new opportunities are what is best in following God's plan for me."
It'd be easy to look at Indiana's current situation and say the roster is set and Abell will be the last player to leave. And maybe that's true. But with the Hoosiers continuing to recruit 2013 guard Jaren Sina, there remains the possibility that somebody else could leave before next season.
Speculating as to who that might be isn't fair to anybody involved, so we won't do that here. But for now, the Hoosiers are in good shape as far as scholarships are concerned for next season.
Filed to: Remy Abell