Cody Zeller declares for 2013 NBA Draft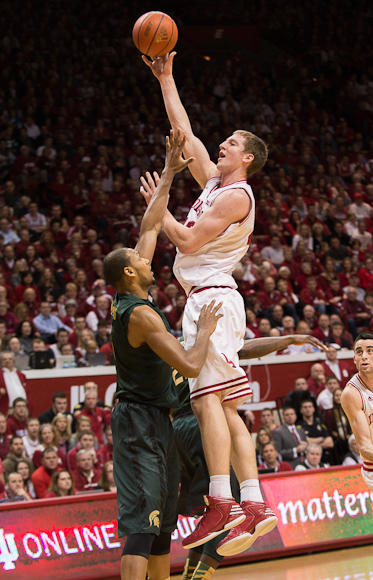 Those close to Cody Zeller said they didn't know what his decision would be in the days following Indiana's season-ending loss to Syracuse in the Sweet Sixteen. His older brother Tyler, now with the Cleveland Cavaliers, was even asked about it before Tuesday night's game against the Pacers.
But in reality, Zeller kind of knew all along. It's time to go to the next level.
"After awhile, you just kind of know," Zeller said at a press conference in Assembly Hall on Wednesday afternoon. "I kind of knew, barring a serious injury, that this might be my last year."
And so you have it. The young man who helped bring Indiana basketball back will forego his final two college seasons and enter June's NBA Draft. He joins teammate Victor Oladipo, who declared for the draft on Tuesday.
"I know what we're losing," Indiana coach Tom Crean said, "I've got the stat sheets. But I don't dwell on that. People were really looking forward to the opportunity to come play with Cody and win with Cody, and that's exactly what they did."
Zeller is projected by many experts to be a lottery pick, though his stock has slipped some from the beginning of the season. Zeller averaged 16.5 points and 8.1 rebounds per game for the Hoosiers last season.
When he told his teammates about his decision to declare, Zeller said they weren't surprised.
"I think those guys kind of expected it," Zeller said. "The people that have been helping me the most to make the decisions, I tried to have them put themselves in my shoes with what they would do in my situation. A lot of my teammates would tell me to go to the NBA because if they had the opportunity that I have, I think they would do the same thing."
Zeller, like Oladipo, has not yet signed with an agent, but plans to shortly. He also plans to finish his business degree at Indiana's Kelley School of Business, where he will need 35 more credits after this semester to graduate. Zeller said it will take him two summers to finish.
"These past two years have been probably the best two years of my life," Zeller said. "I could have made a case for either side. Obviously, my education is definitely important to me. … But I had to do what is best for me. I feel like this is the best thing for me."
Filed to: Cody Zeller, Tom Crean