Oladipo declares for NBA Draft; Zeller next?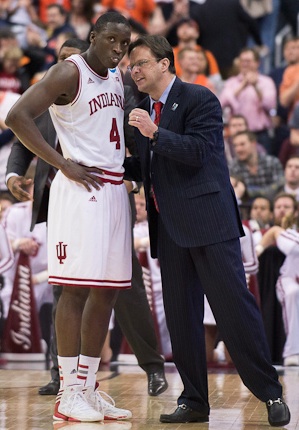 It was the right decision, and it came as little surprise. But nevertheless, Indiana's Victor Oladipo officially announced on Tuesday afternoon that he will forgo his senior season and enter the 2013 NBA Draft on June 27.
"I swayed back and forth, especially throughout the season," Oladipo said at a press conference on the Assembly Hall floor. "I just felt like this is what was best for my family.
"I'll always be a Hoosier until the day I die."
Oladipo, a first team All-American, is projected to be a lottery pick by nearly every NBA draft expert, and is currently No. 5 in Chad Ford's latest mock draft for ESPN. He will graduate with a bachelor's degree on May 4, his 21st birthday.
"I truly support what he's doing," said Indiana coach Tom Crean. "There's no question that he's got the physical abilities, the mental capacity, maturity and focus, the emotional well being and spiritual background to go put himself in the position to take this next step."
There's no doubt the Hoosiers take a hit because of Oladipo's decision. He, along with Cody Zeller, played a large role in helping Indiana return to the elite level. It will be impossible to replace him on next year's team.
But what should not be lost in all of this is the way in which Oladipo accomplished what he did. He did it the right way. He came in as an under-recruited athlete, worked tirelessly, became a basketball player, grew into a leader, earned his degree, and then left.
Over the years, college basketball seems to have gone in the wrong direction. But in almost every way, Oladipo represents what is still right about the college game.
"Wherever Victor goes, there won't be a part of the team that isn't excited that he's there," Crean said. "We've all been privileged to see what kind of personality and resolve that he has, and how he treats people, how he is as a person. Whatever team he's on, they'll look back and they won't even have any idea how great of a future player they're picking, but more importantly how great of a citizen they're bringing into their city, their community, their state."
Oladipo will participate in the NBA Draft combine on May 16 and 17 in Chicago. He has not yet signed with an agent, but Crean said he will the process of selecting one will start to speed up now that he has declared.
The Indianapolis Star reported on Tuesday afternoon that Zeller will announce his decision on Wednesday, but that has not yet been confirmed. Oladipo told reporters on Tuesday that he did not know Zeller's decision.
Filed to: Tom Crean, Victor Oladipo