NBA Draft decisions looming for Oladipo and Zeller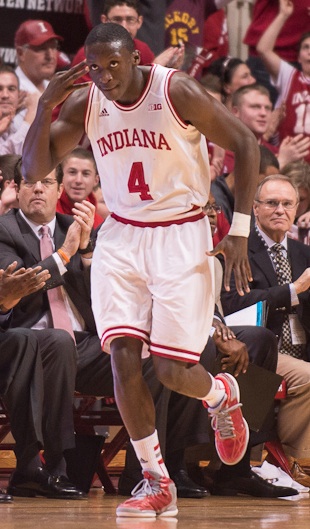 Indiana fans will soon learn the status of All-Americans Cody Zeller and Victor Oladipo as it pertains to the 2013 NBA Draft.
Both players are projected as lottery picks in mock drafts and according to multiple reports, will announce their intentions for next season this coming week.
The NCAA's deadline to withdraw from the draft is April 16, but the NBA's deadline to enter is April 28, which means the NCAA date is only relevant for those who declare and then wish to withdraw and retain their eligibility.
In an interview on Saturday with Bob Kravitz of The Indianapolis Star, IU coach Tom Crean said that both players have put in paperwork with the NBA's undergraduate advisory committee to receive feedback on their draft status.
The deadline for receiving a response from the undergraduate advisory committee is April 15, one day before the NCAA deadline to withdraw from the draft.
Projections for both players continue to vary, but every major projection has both in the lottery, which includes the top 13 picks.
First round picks receive a guaranteed three-year contract with a team option for a fourth season. Compensation for rookies in the 2012-2013 NBA season ranged from $4.28 million for the No. 1 pick to $2.55 million for the No. 6 pick to $1.59 million for the No. 13 pick.

In the immediate aftermath of Indiana's Sweet Sixteen loss to Syracuse on March 28, neither player was prepared talk about the draft.
"I have no clue. I don't know how it goes, I don't know what happens from here," Zeller said. "I was putting everything into this team, this tournament. I haven't thought about it at all."
"I haven't even been thinking about that," Oladipo said of his future. "I'm just really disappointed about the loss because we wanted to go all the way. I haven't really been thinking about my future at all, just been in the present."
In an interview with 92.9 The Game in Atlanta on Saturday, Oladipo said his decision-making process is still ongoing.
"I'm just trying to evaluate everything. The ins and outs of everything and whether it's best for me to stay or leave," he said. "I'm going to sit down with Coach Crean and talk to him about it and talk to the whole coaching staff about it and eventually make my decision."
In its most recent update of who's in and who's out for the draft, ESPN.com lists Oladipo as a player who has "one foot in the door" to declare and Zeller as "50/50" to declare.
Oladipo averaged 13.6 points, 6.4 rebounds and 2.2 steals per game and shot 59.9 percent as a junior and was the first IU player to be named a first team Associated Press All-American since A.J. Guyton in 2000. He was also The Sporting News national player of the year.
Zeller was a second team AP All-American and averaged 16.5 points, 8.0 rebounds and 1.3 blocks and shot 56.2 percent from the field as a sophomore.
Filed to: 2013 NBA Draft, Cody Zeller, Victor Oladipo