Transcript: Indiana postgame press conference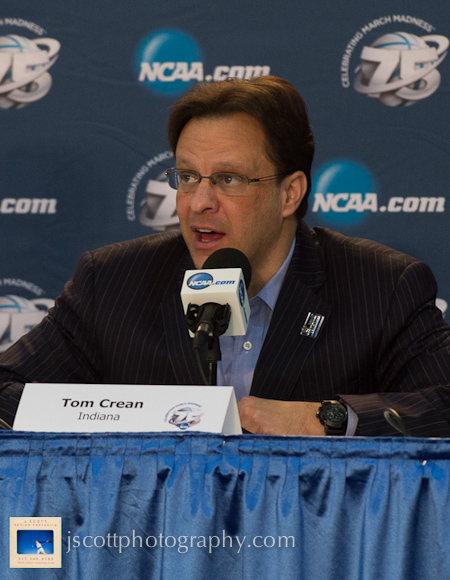 WASHINGTON — Tom Crean, Christian Watford, Cody Zeller and Victor Oladipo met with the media following Indiana's 61-50 loss to Syracuse in the East regional semifinal. Read comments from their postgame reaction below.
THE MODERATOR: We are joined by Indiana, student athletes Christian Watford, Victor Oladipo and Cody Zeller and Coach Tom Crean. We will start with an opening statement from Coach Tom Crean.
COACH CREAN: Well, we have had a heck of a ride with this group, and it doesn't feel like that tonight, won't feel like that for a couple of days, maybe longer.
But the bottom line is that this program has come from so far and I hope at some point in time, the seniors, the guys on this team will remember that they did things that hadn't been done first off in 20 years at Indiana but more importantly there are not any programs, whether this be Syracuse, Kentucky, Carolina, Duke, you name it that are the blue blood programs of the country that have had to endure what these guys have had to endure. They have done it with perseverance, toughness, and improvement and they have done it with great class and they will all be better for it.
That's how I view it. Our minds are around closure right now, they're not. So we have to look at it that way. The story of the game for us is we didn't take care of the ball enough. We gave them too many opportunities. We did not do a good enough job on a couple of their guys, especially Michael Carter-Williams and we couldn't get over the hump. We couldn't get that gap, that margin where we needed it to be. They played well and they deserve it, we didn't play as well, we played extremely hard. They move on and we call it a great year.
Q. Christan, it must be hard to do right now but is there any way you can put into perspective your career at Indiana right now?
CHRISTIAN WATFORD: As you know, it's been full of up's and down's but I wouldn't trade it for the world. I love my teammates and I'm happy to be an Indiana Hoosier at the end of the day.
Q. Victor, what made their two-three zone so difficult? What kind of challenges did they present in their zone?
VICTOR OLADIPO: They were just long and active. We just didn't take care of the ball like we should have. In the first half we got a little too anxious, catching the ball, moving out the ball, not having the ball secure in our hands, and our shots weren't falling at the same time.
So that's pretty much it.
Q. Cody and Victor, I hesitate to ask you, but have you played your final games for Indiana?
CODY ZELLER: I don't know. I put everything into this. I haven't thought about it one bit. I was just worried about playing this year. So much fun playing with these guys. We had a great year, haven't thought about it at all.
VICTOR OLADIPO: I'm the same way. I've been focused on Indiana Hoosier basketball and I loved playing with these guys, and I've enjoyed the ride. I'm never going to forget this team, the players on this team, this coaching staff, anything. That's all I really been thinking about.
THE MODERATOR: Thank you, gentlemen. Questions for Coach Crean.
Q. Coach, the guard play from Jordan and Yogi today not up to what it usually is. Do you have an explanation of that? Was it the size and strength of the Syracuse guards?
COACH CREAN: I'm sure the strength and the size of the Syracuse guards had something to do with it. It's a matter of where you enter the ball from and we got tentative shooting the ball, which we didn't need to do. We had some turnovers early on and our whole thing was to get our guards off the point so we could play more off the wing and enter the ball more from the wing and that was easier said than done.
We prepared for it, there is no doubt about it, but it just wasn't meant to be with that. When we got it inside, we got some good looks, we didn't always come out with a reward, whether it be a basket or a foul shot, but you've got to make enough shots against the zone to spread it out a little bit and they didn't have to do that as much, so they did an excellent job.
Again, it's not the missed opportunities of scoring that hurt us as much as it did the points off turnovers that turn into into live ball turnovers for them. We did a much better job in the second half but the first half it got away from us a little bit there.
Q. It's still raw but could you put into words what this team means to you personally and what it means to Indiana basketball?
COACH CREAN: Well, it's still raw. Like I said, these guys have done a fantastic job. There will be a time to celebrate 'em, but they've done things that have not been done in Indiana in a long, long time. They did it from scratch.
I think that's — every once in a while it's easy to forget that, and I know I forget it some, but I think when we look back at it we will know that these guys came in, sight unseen, Jordan certainly knew what the program was about, but Christian really didn't, Victor didn't, Will didn't, those guys that are older guys now and they came in and made it a big-time place again.
When we look at that, we will feel good about that and there's a lot of things to celebrate for them, but it's one of those things it's hard to put that into context or perspective tonight.
Q. We're looking ahead already but what role will you play with Cody and Victor when it comes to whatever next step they might take?
COACH CREAN: I'm sure I will do what I would always do, try to be a voice of reson, do the right research, try to give them as honest of an assessment as I possibly can. It won't come from dotcoms and scouts, it will come from general managers, scouting directors, people like that that really have an investment in what those picks mean and where they would potentially go. Just like we've done last year, and try to give them the best advice they could possibly have, be supportive of them and their families through the entire process and treat 'em with love and care like we always have.
Q. If you look at the statistics, Coach, I think your team missed twenty 2-point shots and of those twenty 2-point misses, 10 were blocks or one score I read said 11 blocks, can you analyze and explain that?
COACH CREAN: Not until I watch the film. They make it — they swarm to the ball when the ball is around the bucket area, when it's in the short corner area, and until I watch the film I'm not going to be critical or self-analyze it until I see that. There were a couple of times we could have kicked it out, there were a couple of times I thought we would be at the foul line and it didn't happen. They have great length, there is no doubt about it, and you've got go up and power through it, and at times we did, at times we didn't.
At times when we did power through it, we didn't get the bucket, it didn't go in for us at times obviously and it just wasn't meant to be.
Q. Coach, with Yogi, what do you tell him that he can take away from the first game and his his first experience at the NCAA Tournament?
COACH CREAN: There will be quite a bit. Yogi is a great player and that's the first time he's seen that kinda zone and length and one thing we've tried to do in the Big 10 is follow the blueprint of the Big East like we did at Marquette we've added more with low post scoring and things like that and let's face facts, we haven't seen a zone like that and as much as you try to simulate it in practice if you've got Hanner Mosquera?Perea's that you can put in the zone then you've got an opportunity to see what it's like. They're very good. They're not where they're at for a reason and he's not in the Hall of Fame for any other reason than he's one of the best coaches that has ever coached the game.
It's a different deal with that. We got tentative because we kept trying to put the ball in from places that it just wasn't going to come from there, it had to come more from the wing, so he will learn from it. He will be a great learner from it.
Filed to: 2013 NCAA Tournament, Cody Zeller, Tom Crean, Victor Oladipo