Oladipo, Zeller mum on NBA futures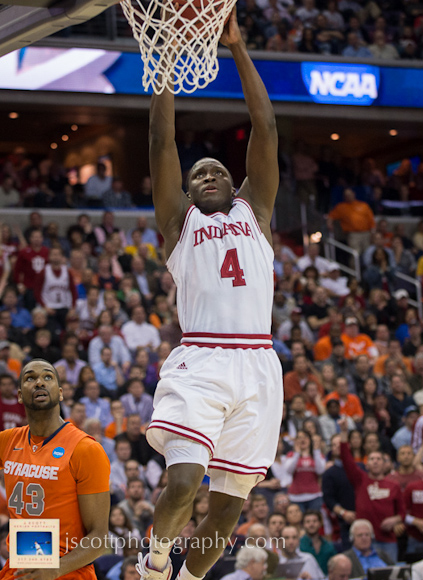 WASHINGTON — An earlier than expected exit from the 2013 NCAA Tournament quickly brought questions about the futures of Cody Zeller and Victor Oladipo, both of whom are projected as lottery picks in this June's NBA Draft.
But in the immediate aftermath of IU's disappointing 61-50 loss to Syracuse, neither player was prepared to talk about what will come next.
"I have no clue. I don't know how it goes, I don't know what happens from here," Zeller told reporters. "I was putting everything into this team, this tournament. I haven't thought about it at all."
"I haven't even been thinking about that," Oladipo said of his future. "I'm just really disappointed about the loss because we wanted to go all the way. I haven't really been thinking about my future at all, just been in the present."
Both players will have roughly a month to decide whether they'll return to school as the NBA's early entry deadline for the draft is Apr. 28.
Indiana coach Tom Crean was asked about the role he'll play in assisting both Oladipo and Zeller with their respective decisions in his postgame press conference.
"I'm sure I will do what I would always do, try to be a voice of reson, do the right research, try to give them as honest of an assessment as I possibly can," Crean said. "It won't come from dotcoms and scouts, it will come from general managers, scouting directors, people like that that really have an investment in what those picks mean and where they would potentially go.
"Just like we've done last year, and try to give them the best advice they could possibly have, be supportive of them and their families through the entire process and treat them with love and care like we always have."
Oladipo, who finished with 16 points, is currently ranked No. 6 on Chad Ford's top 100 on ESPN.com and has been talked about as a potential top three pick.
Zeller checks-in at No. 8 on Ford's rankings, but shot just 3-of-11 from the field on Thursday on his way to 10 points and 10 rebounds.
Filed to: Cody Zeller, Victor Oladipo