Super Bowl champion John Harbaugh impressed by Hoosiers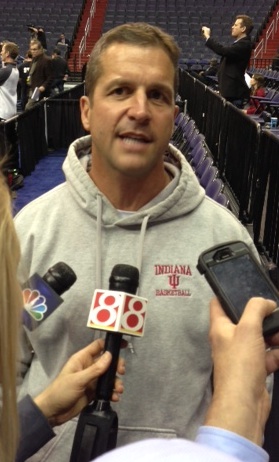 WASHINGTON — Indiana and its fans may not have been thrilled to end up in the East Region instead of the Midwest, but John Harbaugh sure was.
The coach of the Super Bowl champion Baltimore Ravens made the short trip to the Verizon Center on Wednesday afternoon to watch the Hoosiers practice and see his brother-in-law, Tom Crean.
"I'm excited to be a part of it. I love these players," Harbaugh said. "I've seem them practice over the years and I've kind of been around for the last four years, so it's just a great experience to be a part of."
Harbaugh and his brother, Jim, coach of the San Francisco 49ers, have always spent a good amount of time around Crean and the Indiana program, especially during the football offseason. John Harbaugh said he's been impressed by what the Hoosiers have already accomplished this season.
"To hold on to that No. 1 spot for as long as they did, to me, is an amazing accomplishment," he said. "They've been consistent, they've been steady. I love the Temple game, I love overcoming adversity the way they did. They kind of reminded me a little bit of our Ravens. That wouldn't be a bad thing."
Harbaugh, who wore a gray Indiana sweatshirt and stood on the baseline while the Hoosiers practiced, said he plans to follow the team as far as it goes. He hopes he'll be spending this weekend in the nation's capital and next week, well …
"I've got a plane ticket to Atlanta," he said, "and I'm not going if the Hoosiers don't go."
Filed to: Baltimore Ravens, John Harbaugh, Tom Crean