Indiana prepares for new challenge in Syracuse zone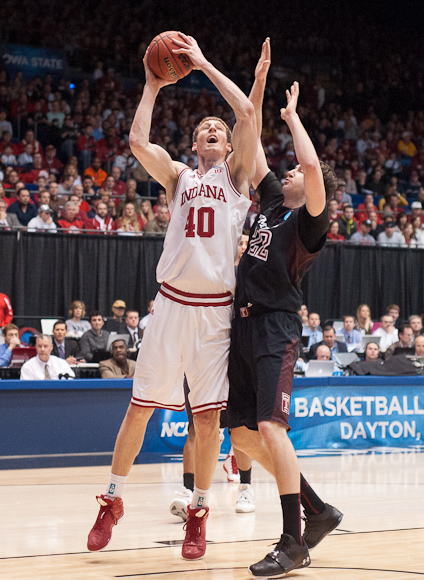 WASHINGTON — Indiana saw just about everything imaginable in the Big Ten this season.
But not quite.
"We don't see a lot of 2-3 zone like this," guard Jordan Hulls said of Syracuse. "They're very long, very athletic, they close out to balls a lot faster than what we've seen, even on film."
The Hoosiers will finally get a look at the Syracuse zone that gets talked about so much when they play the Orange in a Sweet 16 game Thursday night at the Verizon Center.
What makes the Syracuse different and more challenging than other zones is the athletes Jim Boeheim recruits to play in it. Brandon Triche (6-foot-4) is the shortest player in the Orange's starting lineup, and the other four are Michael Carter-Williams (6-foot-6), James Southerland (6-foot-8), C.J. Fair (6-foot-8) and Rakeem Christmas (6-foot-9).
"They're athletic guys, long guys. They like to get up in your face," said forward Will Sheehey. "They get out and challenge passing lanes, they don't kinda pack it in. It's almost like a pressure 2-3 zone."
Added point guard Yogi Ferrell: "They have the best zone defense in the country. We've been practicing against it, watching a lot of film. It's going to be a very tough test for us."
Crean coached against Boeheim and Syracuse twice when he was at Marquette, so the zone won't be completely new to him when he sees it Thursday night. Plus, Crean had almost four days to prepare for it, so the turnaround wasn't all that short.
Even so, the Syracuse zone has proven to be one that can add new wrinkles and function in different ways depending on the opponent and the game. Plus, Crean is 0-2 in those two games.
"At Marquette we didn't necessarily have the ability to score in the low post that maybe we have now," Crean said Wednesday. "So it was a little bit different attack and we had good guards, people like Jerel McNeal, Wes Matthews, you know Dominic James, Lazar Hayward, so people like that that could make plays but we didn't necessarily have the low post ability.
"I don't think you can look at that zone and think you're going to beat it any one way but I don't think you can look at the zone and think you can stand around and pass the ball around the perimeter, either. That is a recipe for defeat."
One thing that will be key to beating the zone is knocking down perimeter shots, especially early in the game. The Hoosiers didn't shoot particularly well against Temple on Sunday, and that will have to change.
Hulls, who could be a big factor in Thursday's game, looked good in practice on Wednesday and doesn't seem to be in too much pain from the right shoulder injury he sustained against Temple. Hulls wasn't wearing the compression vest he had on in the second half on Sunday, and his shot looked normal.
"It's feeling good," Hulls said. "Once it got loose, I was able to shoot well. The doctors are doing a great job of getting me back in shape, feeling well."
IU winless versus Syracuse since 1987
When Indiana and Syracuse meet on Thursday night, the Hoosiers will be looking their first win over Syracuse since the 1987 national championship game. That was the year Indiana's Keith Smart hit the famous baseline shot to beat the Orange and capture the school's fifth title.
Sheehey said the Hoosiers are well aware of that game and shot because it is played on their video montage in the locker room before every game.
"It means a lot for any of those guys to be compared to any of us," Sheehey said. "We always look up in Assembly Hall and see the banners, and we know the correlation between them."
Notes
· An ugly review: When the Hoosiers reviewed the tape from Sunday's 58-52 win over Temple, it wasn't exactly an enjoyable experience. Indiana escaped, but it wasn't pretty.
"We needed that, for coach to get on us," Ferrell said, "because watching the tape, it wasn't a pleasant sight."
· Enjoying D.C.: The Hoosiers didn't get to stay home and play in Indianapolis this weekend, but that has been just fine with them. When they're not busy preparing, they are trying to take advantage of being in the nation's capital.
"We had dinner, walked over to the White House [Tuesday night]," Sheehey said. "So that was good."
· Sheehey 'fine': Sheehey wasn't in the team's locker room following Sunday's win over Temple after taking a hard hit to the head late in the game. But he shook off a reporter's question about the injury.
"I'm good, I'm fine," Sheehey said.
Filed to: Jim Boeheim, Jordan Hulls, Syracuse Orange, Tom Crean, Will Sheehey