What to Expect: Temple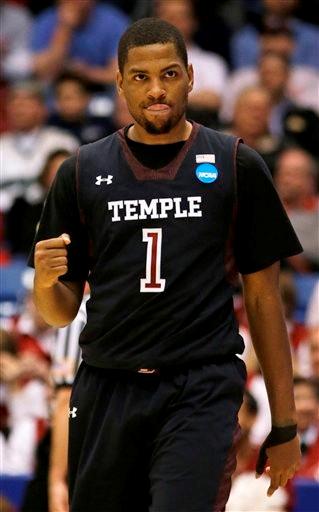 DAYTON, Ohio — Indiana will look to punch a ticket to the Sweet 16 at the Verizon Center in Washington D.C. when it takes on Temple Sunday afternoon in a round of 32 NCAA Tournament game at the University of Dayton Arena.
The game will tip at approximately 2:45 p.m. on CBS with Jim Nantz, Clark Kellogg and Tracy Wolfson on the call:
The Atlantic 10 made a statement that it belonged in the conversation as one of the country's best conferences through the first two rounds of this year's tournament, winning six games and advancing five teams into the round of 32. That total was surpassed only by the Big Ten, which had six. The first Big Ten/A-10 meeting of the tournament went the way of Michigan on Saturday afternoon as the Wolverines easily dispatched of Virginia Commonwealth, and Indiana will look to knock out another A-10 team when it faces Temple.
The Owls had an up-and-down season, which is what you'd expect to see when examining the profile of a nine-seed. The highlights: Wins over Syracuse and St. Louis. The lowlights: Losses at home to Canisius and St. Bonaventure.
PERSONNEL
One player on the Temple scouting report stands out above the rest: senior guard Khalif Wyatt. The 6-foot-4, 215-pound guard poured in a second-round high 31 points (highlights from that performance here) in leading Temple past North Carolina State 76-72 on Friday. Wyatt enters the meeting with IU averaging 20.2 points and the Atlantic 10's player of the year can score in a variety of ways. He's not particularly efficient from the perimeter (32.6 percent), but is hitting 49.4 percent of his twos and has a free throw rate (FTA/FGA) of nearly 50 percent. Once he gets to the line, he's Temple's best free throw shooter at 83.2 percent.
Wyatt injured his left thumb in the win over North Carolina State, but said on Saturday afternoon that x-rays were negative and doesn't expect the injury to be a factor Sunday. Victor Oladipo should get a fair share of time on Wyatt, who seemed confident when asked about the possibility of going against the Big Ten's top defender. "I know he's Big Ten defensive player of the year," Wyatt said. "I know he's a great athlete, and he plays really hard. He's a good defender. But, I mean, not the first good defender."
Joining Wyatt in the backcourt rotation are Scootie Randall, Will Cummings and T.J. DiLeo. Randall is the team's second leading scorer at 11.6 points per game and is a high volume shooter from the perimeter with 185 threes attempted over 32 games. Cummings is a solid defender with a 3.6 steals percentage, but isn't much of a scorer. And DiLeo comes off the bench to provide quality backup minutes at the point guard position. He can knock down the 3-pointer if left open, but he only attempts two shots per game.
The Owls play primarily three guys in the frountcourt: Rahlir Hollis-Jefferson, T.J. O'Brien and Anthony Lee. Hollis-Jefferson, a 6-foot-6 forward, is solid on the offensive glass (9.7 OR%) and has a team-high 34 blocks. He played all 40 minutes in Temple's win against North Carolina State and is an important player for the Owls to keep out of foul trouble. O'Brien, who transferred from Boston University, once scored 14 points and grabbed 13 rebounds against the Hoosiers back in 2009. At 6-foot-9, he's a tough matchup because of his ability to step out and knock down the three (42.9 percent). The 6-foot-9 Lee is Temple's best defensive rebounder (26.2 DR%) and could have his number called quickly off the bench if Cody Zeller gets off to a quick start.
POMEROY PREVIEW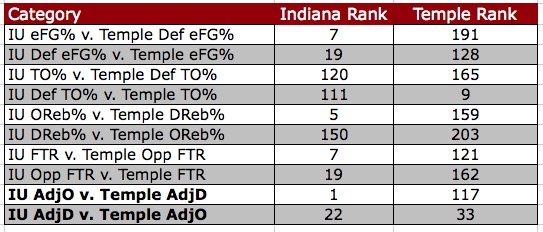 Temple coach Fran Dunphy used the word "concerned" liberally in Saturday's news conference discussing Indiana and a glance at the profiles of both teams justifies that sentiment. The Owls haven't been a good defensive team this season and some of their deficiencies play directly into Indiana's strengths.
Temple ranks 246th nationally in 3-point field goal percentage defense and the Hoosiers enter Sunday as the second-best 3-point shooting team in the country at 41.1 percent. Defensive rebounding isn't a strength for the Owls either and IU's ability to generate second-chance points by crashing the glass when it does miss has been pivotal all season. Temple has also struggled at times with fouls and keeping opponents off the foul line, which is a third area where the Hoosiers appear to have a distinct advantage.
Pace figures to be important for Temple, and while Wyatt mentioned the Owls can be successful when trying to run, he acknowledged it might not be the best strategy against IU. "They like to go up and down, but we can go up and down, too," he said. "We want to make sure we control the pace." Both teams are averaging a similar number of possessions per game (67 for Temple, 68 for Indiana), but look for Temple to attempt to grind out possessions in the halfcourt rather than taking quick shots that could open the floodgates for the Hoosiers in transition.
WHAT IT COMES DOWN TO
Indiana currently sits as a 12-point favorite and Pomeroy is even more bullish on the Hoosiers, predicting a margin of 15 points and an 88 percent chance of a victory. Temple is undersized on the frontline and doesn't really have a physical presence who can body up to Zeller and push him off the block, nor do they have the compliment of defensive players capable of slowing down the nation's best offense. Every team that has knocked off IU to this point ranks in the top 46 nationally in defensive efficiency and Temple comes in at No. 117.
That said, it's the NCAA Tournament and with an explosive scorer like Wyatt, it's important for Indiana to create some separation early to demoralize any thoughts of an upset bid. If the Hoosiers can slow down Wyatt like they did Michigan's Trey Burke and play through Zeller, a second straight trip to the Sweet 16 is more than a good possibility come Sunday afternoon.
All tempo-free stats via KenPom.com.
Filed to: Temple Owls