Hoosiers react to President Obama picking them to win National Championship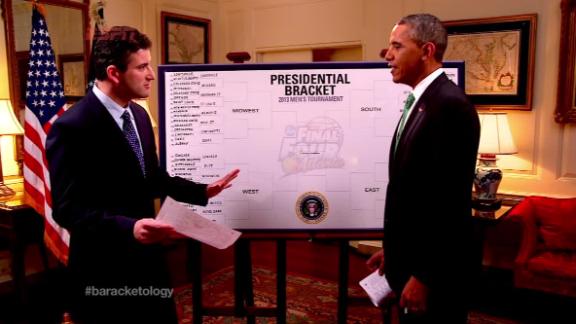 DAYTON, Ohio — Indiana was the nation's preseason No. 1 team. The Hoosiers are a 1-seed in the NCAA Tournament. As a result, there are a lot of people picking the Hoosiers to win it all. That includes President Barack Obama, who chose Indiana as his national championship when he filled out with bracket with ESPN's Andy Katz on Tuesday.
"It is pretty neat. I haven't agreed with some of the other decision's that he's made," Indiana center Cody Zeller said, smiling. "No, I'm gonna get in trouble for this. I fully agree with everything that Obama does."
Added guard Remy Abell: "That's great. Hope he's right."
Obama has been filling out a bracket annually since he took office in 2009, with mixed results. He correctly picked North Carolina to win the title in '09, but incorrectly selected Kansas in 2010 and 2011 and North Carolina last season.
"I think it's really good, but I'm also concerned that someone said that he was 1-3 in his picks before," said Indiana coach Tom Crean. "So you're always going to be — you hope he's right on this one."
Who is James Madison?
On Thursday afternoon at the University of Dayton Arena, the Indiana players were asked this question at their press conference: Do you guys know who James Madison, the figure, is?
He signed the Declaration or something like that," Victor Oladipo responded. "You mean the person, right? James Madison, he signed something big, like the Declaration of Independence. I'm right, right? Emancipation Proclamation, something like that. One of those big names. I know he's a big historic figure in U.S. history."
Zeller fired back.
"Do you know what a Hoosier is?," he asked.
"Not really," the media member said.
"I think I'm 4-0," Oladipo said. "I think I won that little trivia challenge right there."
Well actually, James Madison was the Father of the Constitution and the fourth U.S. president. But hey, Oladipo was close.
Elston feels "pain free"
Indiana senior Derek Elston didn't play in either of the team's Big Ten Tournament games last weekend in Chicago due to a lingering knee injury. The knee has bothered Elston on and off all season after he had surgery to repair a torn meniscus in October.
But Elston said he received some extra medicine in the knee this week and feels ready to play in Friday afternoon's NCAA Tournament game against No. 16 seed James Madison.
"This time last week, it wasn't the best," Elston admitted. "Right now, it feels really good, a lot better than it has. I'm at the point now where it should last me for as long as we go. The way I've been going through practices, going up and down stairs and stuff like that, no more pain. I feel really good."
Notes
· High school reunion: Abell will play against former Eastern High School teammate Arman Marks on Friday. Marks is a sophomore guard for James Madison and is averaging just over a point per game.
· Rather play the Lakers?: After last week's Big Ten Tournament semifinal game against Wisconsin, Michigan State coach Tom Izzo facetiously suggested he'd rather play the Los Angeles Lakers in his next game than some of the Big Ten teams he had been playing.
"We've beaten the hell out of each other," Izzo said.
Crean was asked at Thursday's press conference about Izzo's comments and how nice it is to be playing a team outside of the Big Ten.
"I wouldn't want to play the Lakers," Crean joked. "Kobe? Victor Oladipo can guard just about anybody, but Kobe is Kobe."
Filed to: Barack Obama, Cody Zeller, James Madison, Remy Abell, Tom Crean