IU in Dayton: NCAA Tournament broadcast, practice and ticket information

Indiana will open the NCAA Tournament against the winner of LIU Brooklyn and James Madison about 139 miles from Bloomington on Friday at the University of Dayton Arena.
The Hoosiers will tip at approximately 4:10 p.m. ET on TBS with Jim Nantz, Clark Kellogg and Tracy Wolfson on the call. The game is part of Friday's first session ticket.
If IU advances past Friday, it will face the winner of No. 8 North Carolina State and No. 9 Temple. The winner of that game will advance to the Sweet 16 in the tournament's East regional at the Verizon Center in Washington D.C.
We've put together a list of this week's schedule, including open practices and other tip times in Dayton, as well as ticket information after the jump.
Weekend Schedule:
Thursday, March 21
PRACTICES (OPEN TO MEDIA AND GENERAL PUBLIC)
· Noon-12:40 p.m. – Temple
· 12:45-1:25 p.m. – Winner LIU-Brooklyn/James Madison
· 1:30-2:10 p.m. – N.C. State
· 2:15-2:55 p.m. – Indiana
· 4:25-5:05 p.m. – Ohio State
· 5:10-5:50 p.m. – Notre Dame
· 5:55-6:35 p.m. – Iona
· 6:40-7:20 p.m. – Iowa State
Friday, March 22
SESSION 1:
· 1:40 p.m., TBS: No. 8 North Carolina State vs. No. 9 Temple
· 4:10p.m., TBS: No. 1 Indiana vs. LIU Brooklyn/James Madison winner
SESSION 2:
· 7:15 p.m., CBS: No. 2 Ohio State vs. No. 15 Iona
· 9:45 p.m., CBS: No. 7 Notre Dame vs. No. 10 Iowa State
Sunday, March 24
SESSION 3:
· Times to be announced
A complete television schedule for the opening rounds of the NCAA tournament is available here.
Streaming Information:
· All NCAA tournament broadcast will be available over the internet at NCAA.com/MMOD and on the NCAA March Madness app on the iPhone, iPad, iPod and select Android devices.
Ticket Information:
· Official: Ticketmaster
· Secondary Market: All sessions strip, Session 1, Session 2, Session 3
Complete East Region bracket: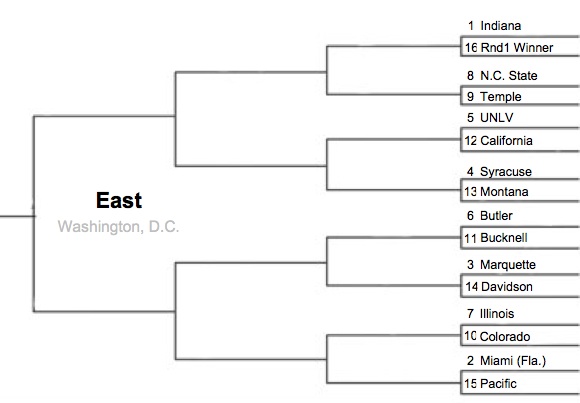 Filed to: 2013 NCAA Tournament