IU draw in East Region conducive to Final Four run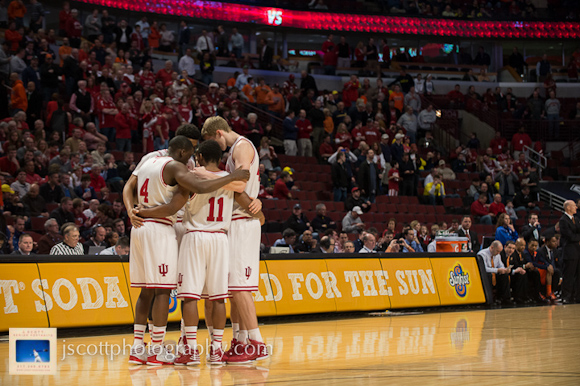 For just the third time since seeding began in 1979, Indiana is a No. 1 seed in NCAA Tournament.
The Hoosiers, who many believed were a lock for the Midwest region going into conference tournament play, were unseated by Louisville for the right to play through Lucas Oil Stadium and will instead play as the No. 1 in the East region.
A quick glance at the teams in the East versus the Midwest shows Indiana may have the easier path despite being seeded No. 3 overall compared to No. 1 overall for Louisville:
East region teams (overall tournament seed per selection committee in parenthesis): Indiana (3), Miami (5), Marquette (12), Syracuse (16), UNLV (18), Butler (22), Illinois (28), N.C. State (32), Temple (34), Colorado (36), California (42), Bucknell (48), Montana (54), Davidson (55), Pacific (60), LIU Brooklyn (65), James Madison (66)
Midwest region teams: Louisville (1), Duke (6), Michigan State (11), St. Louis (15), Oklahoma State (17), Memphis (23), Creighton (25), Colorado State (30), Missouri (33), Cincinnati (37), Oregon (43), St. Mary's (46), Middle Tennessee State (50), New Mexico State (52), Valparaiso (56), Albany (62), North Carolina A&T (67), Liberty (68)
While there's no debating the crowd advantage Indianapolis would have provided, Indiana fans will travel well regardless of the location.
That brings us to a closer examination of the above figures with this conclusion: Indiana got a weaker region than Louisville despite being seeded lower. While it's true IU did get the top two-seed in its region in Miami, the Hoosiers also got the lowest ranked No. 3 (per the committee) in Marquette and lowest ranked No. 4 in Syracuse. You can also argue that Duke, which has only lost once at full strength, could be the toughest of the No. 2 seeds. The Midwest No. 8 was also ranked ahead of the East No. 8 by the committee as was the No. 9 seed.
INDIANA'S POD AT A GLANCE
Dates: Friday, March 22 and Sunday, March 24
Location: Dayton, Ohio
Venue: University of Dayton Arena (13,435)
Teams: Indiana, N.C. State, Temple, LIU Brooklyn and James Madison
Games: Indiana vs. James Madison/LIU Brooklyn, N.C. State vs. Temple
The Hoosiers won't know their second round opponent until the first four games conclude on Wednesday night in Dayton and will get the winner of LIU Brooklyn, which is playing in its 3rd straight NCAA Tournament, and James Madison.
LIU Brooklyn is No. 185 in the KenPom rankings, while James Madison checks-in at No. 179. LIU, champions of the Northeast Conference, plays an exciting, up-tempo brand of basketball with little defense (319th in defensive efficiency) while James Madison, champs of the Colonial Athletic Conference, plays a more deliberate style (239th in tempo).
Assuming Indiana is able to navigate past the winner of LIU Brooklyn/James Madison, the Hoosiers will play the winner of North Carolina State and Temple, a pair of teams that have had their share of ups and downs.
North Carolina State, ranked in the top ten to start the season, has wins over Duke and North Carolina, but was 3-7 in true road games. Temple owns a neutral court win over Syracuse, but was blown out by Duke and also lost to St. Bonaventure and Canisius.
The Wolfpack are the nation's tenth best offense according to the KenPom rankings, but are outside of the top 100 defensively and allowed ACC opponents to score 1.03 points per possession. The Owls pack less of a punch than North Carolina State both offensively (35th in offensive efficiency) and defensively (124th in defensive efficiency), but rarely turn it over (16.2 turnover percentage).
CREAN, IU PLAYERS REACT TO DRAW
"I think the fact that we're a number one seed speaks for itself. There are only four of them, and we're one of them. I think that is a big deal. The thing I like about Dayton is there is a great proximity, and we'll get a little bit more time in school than we might have gotten. Going back to school this week, we certainly can use that. It is like anything else. There are a lot of different roads and paths that you have to go through to get to your destination and your goals. This is just one of them. This team has done a very good job with that, constantly and consistently. I think when you win in this league, and you come back the way that they have over the last couple of years. The storylines keep changing. `They couldn't win on the road.' Well we did, we went 7-2 this year. All of those things, it is one thing after another, they keep taking care of it. I think the bottom line is, that happens because they really stay humble as to what they've got to get better at, and then they go out and get better at it. I think that is what our key is right now, and nothing more than that." – Tom Crean on IU's seeding.
"It means a lot, especially coming from where we've come. Just 24 months ago, we weren't even in the tournament. It's something we set out for from the very beginning. To achieve this goal, it feels great." – Christian Watford on being a No. 1 seed.
"James Madison is very old. They have three or four fifth-year players. A team like that is athletic, experienced and poses a lot of problems. And then LIU-Brooklyn is a fast-paced team. They like to get up and down and score a lot of points. Every team this time of the year is good. It's not gonna be easy by any means." – Cody Zeller on IU's possible second round opponents.
Filed to: 2013 NCAA Tournament