Oladipo reacts to being named Sporting News player of the year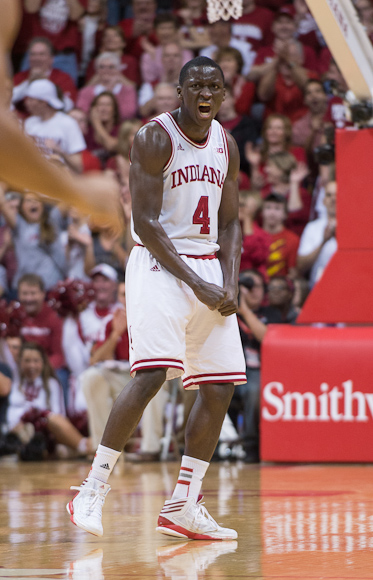 On Monday night, Michigan's Trey Burke edged Victor Oladipo in the Big Ten player of the year voting.
Just a day later, Oladipo earned an award of his own.
The Sporting News named the Indiana junior the national player of the year on Tuesday. Cody Zeller was named the preseason player of the year by the publication.
"It's an amazing feeling," Oladipo said Tuesday afternoon. "It's a blessing and I couldn't have done it without my teammates. I appreciate the award."
Oladipo averaged 13.7 points and 6.2 rebounds per game during the regular season while shooting 61 percent from the field and 46 percent from beyond the arc. He also averaged 2.2 steals per game and was named the Big Ten's defensive player of the year on Monday night.
Oladipo said he didn't spend much time thinking about the award after he heard about it.
"Just thinking about getting in the gym and working on my game, that's kind of the first thing that came to by head when I saw the news," Oladipo said. "I just want to get better. It's nice to be recognized, but one, I couldn't be here without my teammates and two, I feel like I still need to get better in so many areas."
IU's last Sporting News player of the year winner was Calbert Cheaney in 1993.
Since 1996, sixteen of the last seventeen Sporting News player of the year award winners have gone on to win the Wooden Award.
Filed to: Victor Oladipo