Notebook: Who's the Big Ten Player of the Year?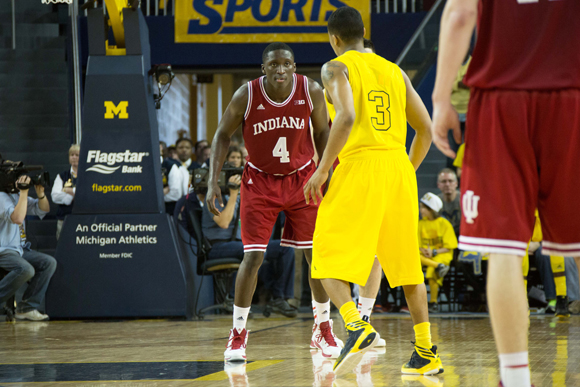 ANN ARBOR, Mich. — Many voters for the Big Ten player of the year said this week they would wait until after Sunday's game to make their decision on who should win the award. The consensus seems to be that it is down to Michigan's Trey Burke and Indiana's Victor Oladipo, who matched up against each other at times in Indiana's 72-71 win at Michigan.
Burke finished the game with 20 points on 7-of-20 shooting, four assists, three rebounds, three steals and four turnovers. Oladipo had 14 points on 7-of-18 shooting, 13 rebounds (seven offensive), three assists and two turnovers.
Indiana's Cody Zeller outplayed both Burke and Oladipo on Sunday, finishing the game with 25 points and 10 rebounds.
So who's the player of the year?
"I've been saying all year long he should be the player of the year," Oladipo said.
"Who should?," he was asked.
"Cody, Cody, Cody Zeller should be the player of the year," Oladipo said. "If you guys don't give it to him, no disrespect, but there's something wrong with y'all."
Zeller wasn't so sure.
"If the team wins, hey, we'll see what happens," he said.
The winner will be announced tonight on the Big Ten Network.
Hoosiers dominant on the glass
Indiana shot a dreadful 13-of-37 from the field in the first half against Michigan, but the Hoosiers stayed in the game and trailed by only three points at the half because of their work on the offensive glass.
The Hoosiers had 24 offensive rebounds in the game, and outrebounded the Wolverines 53-30 overall.
"Everybody's dissecting this and that, bottom line is we weren't rebounding the way we needed to rebound," Indiana coach Tom Crean said. "We weren't getting enough offensive rebounds, we were giving up too many. Our guys really understood that the rebounding was gonna be paramount. It was one of the absolute keys to this game."
Bench produces in second half
Crean played a lot of players in the first half on Sunday, including Hanner Mosquera-Perea, who hadn't played since Feb. 19. The lineups were sometimes head-scratching, and the results weren't great. At least offensively.
The Hoosiers' bench players combined for zero points on 0-of-8 shooting in the first 20 minutes.
In the second half, though, they provided much more of a spark, especially Will Sheehey and Jeremy Hollowell. Sheehey had 10 huge points and four rebounds, and Hollowell had five points and five boards. The duo had back-to-back 3-pointers during one stretch in the second half that helped the Hoosiers recapture the lead.
Crean, though, didn't see anything wrong with the first-half performance he got from his bench.
"They did? Define struggle," Crean said when told his bench players struggled in the first half. "I thought they played fine. Jeremy Hollowell had a great game, and we knew it was coming. I mean a great game. I'm not looking at the offense, I don't even know that. I'm looking at, 'Are they engaged? Are they on the glass? Are they talking on defense? Are they trying to play the coverages the right way?' And even if the score's not being impacted when they're in the game, are they bringing fatigue to the game?"
Filed to: Cody Zeller, Trey Burke, Victor Oladipo