Five takeaways from Indiana's win over Michigan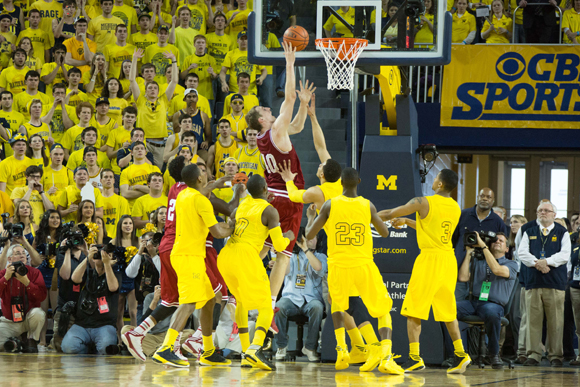 Indiana wrapped up the regular season on Sunday afternoon with a come-from-behind 72-71 thriller over Michigan at the Crisler Center. The victory gave the Hoosiers an outright Big Ten championship for the first time since 1993.
Here's a look at five takeaways from IU's win over the Wolverines:
· Zeller plays the role of closer: Most of the debate for Big Ten player of the year coming into Sunday centered around Trey Burke and Victor Oladipo. Cody Zeller, however, came into the game as the leading scorer and rebounder on the conference's most successful team and IU's star sophomore proved just how dominant he can be in the game's final minutes. Oladipo closed the door on Michigan State last month in East Lansing and on Sunday, Zeller seized the opportunity and scored IU's final six points in 52 seconds. His final basket with 13 seconds remaining gave the Hoosiers the lead for good at 72-71. Afterward, Oladipo endorsed his friend and teammate for the league's player of the year award. "Cody, Cody, Cody Zeller should be the player of the year," Oladipo said. "If you guys don't give it to him, no disrespect, but there's something wrong with y'all." While he's unlikely to beat out Burke or Oladipo, Zeller gave voters something to think about on the season's final day.
· Led by Oladipo, Indiana owns the glass: The Hoosiers knew they didn't rebound the ball well enough in Tuesday's loss to Ohio State and dominated Michigan in the rebounding battle all afternoon. Indiana rebounded 57.1 percent of its misses and Oladipo led the charge with seven of his game-high 13 rebounds coming on the offensive end. In all, IU finished with 24 offensive rebounds and 17 second chance points, a fact that was not lost on Michigan coach John Beilein. "I thought we defended them very well at times, most of the time but we just let them crash three or four guys and somebody always seemed to be missing someone so the rebounding was a huge part of this game," he said. "It's a shame when we defend so well and they just walk in and get a layup. It happened over and over."
· Sheehey bounces back from poor Ohio State game: Indiana has proven to be a resilient team all season as proven by the fact that the Hoosiers have bounced back from every loss with a win. Not only was the story of IU bouncing back as a team present on Sunday, there were also individuals who avenged poor performances from Tuesday. Will Sheehey shot just 1-of-6 in IU's loss to Ohio State and for the first time I can remember this season, he wasn't the first man off the bench. Maybe that served as extra motivation for the IU junior or perhaps it was just a proven scorer finding his touch after an off night, but Sheehey's 10 points on 4-of-9 shooting were pivotal.
· A game of inches: Michigan's seventh and final 3-pointer of the second half came from Burke at the 4:18 mark on a ball that didn't look like it had much of a chance when it drew front iron, hit the backboard, bounced around and eventually found its way into the basket. Call it luck or shooter's touch, but it was a well defended shot by IU that ended up giving Michigan a 64-62 lead. Fast forward to the final 13 seconds and the bounce went the way of Indiana as Burke missed a fairly good look at the rim and Jordan Morgan couldn't get a tip-in that hung on the rim to fall. "We got a really good look by Trey and then Jordan the tip in and I thought for sure that baby was going in," Beilein said. "But it didn't work out and they get the win – and the championship."
· Hoosiers overcome turnovers: The lone blemish on Indiana's offensive profile this season has been turnovers and as Michigan took a five-point lead in the closing minute, it looked as if mistakes would again cost the Hoosiers in a close game away from Assembly Hall. Indiana coughed it up on 21.9 percent of its possessions on Sunday compared to just 9.4 percent for Michigan. Thanks to the aforementioned offensive rebounding and performances by Oladipo and Zeller, Indiana was able to overcome those mishaps. But as we move into tournament play, it's still an area the Hoosiers could stand to shore up if they hope to string together enough wins to reach Atlanta in early April.
Filed to: Michigan Wolverines