Around the Hall: Big Ten champions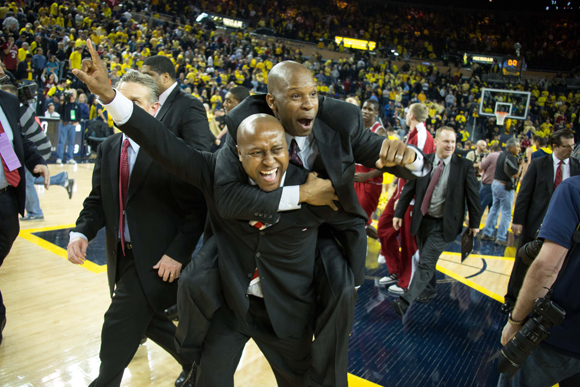 Around the Hall is recommended reading from the Inside the Hall staff.
· Gary Parrish of CBS Sports weighs-in from Ann Arbor on a fitting finish to the Big Ten regular season.
· Rick Bozich of WDRB writes that IU's celebration in Ann Arbor included hats, hugs and tears. He also looked at Crean not giving an inch, even in the postgame handshake line.
· Andrew Sharp of SBNation: "Michigan-Indiana serves our first taste of March Madness insanity."
· Dan Wetzel of Yahoo! Sports believes these Hoosiers mirror their fiery coach.
· The New York Times profiles Victor Oladipo, who knows how to wow a crowd.
· Pat Forde of Yahoo! Sports looks at the weird relationship between Oladipo and his father, Chris.
· UMHoops has the Michigan perspective on IU's wild 72-71 win over the Wolverines.
· Brent Yarina of The Big Ten Network states his case for Oladipo as the conference player of the year.
· Drew Sharp of The Detroit Free-Press writes that Michigan's "gag" against IU proves it isn't that good.
· Michael Rothstein of ESPN looks at the one roll of the ball that decided the outcome in the Crisler Center.
Filed to: 2013 Big Ten championship