IU student told to wear Michigan shirt or leave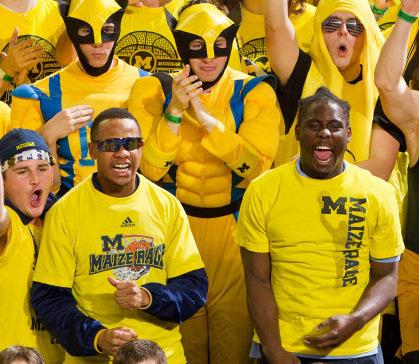 ANN ARBOR, Mich. — As is usually the case when Indiana goes on the road, there were several Hoosier fans mixed in the Michigan student section at Sunday's game at the Crisler Center.
But prior to the game, any student wearing an Indiana shirt was approached by an usher, handed a maize shirt with the word "Hail" on it, and told to wear it or leave the arena.
One of those students was Indiana senior Yoni Freedman, who bought a ticket for 60 dollars from one of his University of Michigan friends and camped out in a tent on Saturday night. He and his friends arrived outside the Crisler Center at 12:45 a.m., and got seats in the first row of the student section directly behind the Indiana bench.
Freedman was wearing a No. 3 Indiana jersey, and was almost immediately asked to take it off.
"I asked to see a rule book and said even Assembly Hall allows away fans to wear their own jerseys and we practically invented basketball," Freedman said in a text message. "They replied 'We don't have a rule book, it's a known athletic policy and you can leave or stay and wear maize and blue or white.'"
Freedman had a white Kilroy's Red Wings shirt on underneath, and offered to leave the jersey off and just wear the shirt. But the ushers declined, saying Freedman either had to wear the "Hail" shirt or exit the arena.
"They even had a hard time with the Kilroy's shirt even though it was for the hometown Detroit Red Wings," Freedman said.
Another girl sitting in the student section behind one of the baskets initially declined the yellow shirt, and then put it on to avoid being kicked out.  When the usher left the section, she took the shirt back off, what was eventually forced to wear it once again.
As for Freedman, he said he planned to give the maize "Hail" shirt to one of his Michigan friends after the game. He proudly held his No. 3 jersey in his hand and waved it during the pregame introductions, even though he received a good deal of ridicule for it.
Update: Via the MaizeRage web site, here are the rules for sitting in the bleachers:
Students with a ticket in the bleachers are required to wear a maize Michigan shirt (preferably basketball related), a Michigan basketball jersey, or a costume. Students who do not comply with this requirement may be moved to the blue or gold sections. It is also required that students in the bleachers stand up during game action. It looks bad on television when some of the students are sitting down.
Filed to: Michigan Wolverines