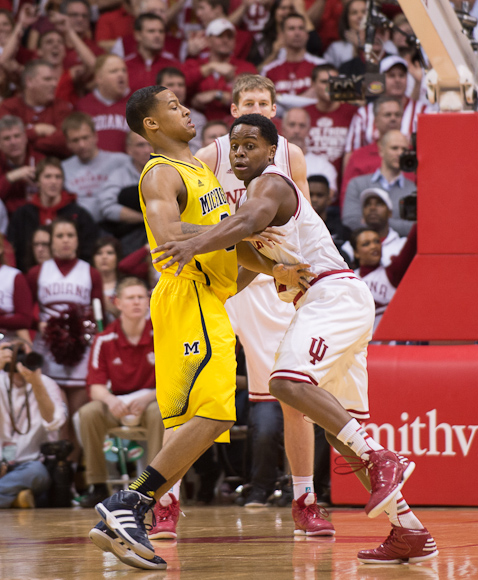 Following its second in loss in three games, Indiana hits the road on Sunday for a meeting with Michigan at the Crisler Center in Ann Arbor. The Hoosiers have already clinched the No. 1 seed in the Big Ten Tournament and a share of the regular season conference crown, but can win the league outright with a win over the Wolverines.
The game will be broadcast on CBS with Jim Nantz and Clark Kellogg on the call at 4 p.m.:
In a fitting finish to what has been one of the most competitive Big Ten seasons in recent memory, a full day of hoops on Sunday will determine whether one team (Indiana) walks away with the conference championship or up to three other teams (Michigan, Ohio State and Michigan State) get a share as well.
The spotlight will be on Ann Arbor as Indiana goes into its regular season finale with a one-game lead in the loss column. Michigan is unbeaten at home with a 16-0 record and the Wolverines are coming off a pair of hard-fought wins over Michigan State at home and Purdue on the road.
PERSONNEL
As incredibly balanced as Michigan has been offensively this season, the one constant the Wolverines possess also happens to be the primary competition to Victor Oladipo and Cody Zeller for Big Ten player of the year. Sophomore point guard Trey Burke has followed up a tremendous freshman season with an even better sophomore campaign. He's the second leading scorer in the conference at 19.1 points per game and is the leader in assists with 6.9 per contest (39.4 assist rate). Burke is shooting nearly 55 percent on twos and over 38 percent on threes. He's at his best using the ball screen and the Hoosiers defended him relatively well in that regard in the first meeting using mostly Yogi Ferrell, which was a key to victory.
While he's overlooked by some because of Burke, junior Tim Hardaway Jr. has bounced back from a sophomore season where he really struggled to shoot the ball from the perimeter. Hardaway Jr. is hitting 38.9 of his 3-point attempts, up from 28.3 percent a season ago. The team's second leading scorer at 14.9 points per game, Hardaway Jr., like many of his teammates, has benefited greatly from Burke's ability to find him loose on the perimeter.
Freshman Nik Stauskas is the team's leading 3-point shooter at close to 46 percent overall, but he's hit just 36.4 of his attempts from distance in Big Ten play. With just 0.9 fouls called per 40 minutes, Stauskas is the least foul prone player in all of college basketball. Indiana is also likely to see two more freshman, Spike Albrecht and Caris LeVert, in limited roles off the bench. Albrecht is the backup point guard and is capable of knocking down perimeter shots and LeVert is a solid defender who filled in nicely for an injured Stauskas with eight points in the win over Michigan State.
Another freshman, Glenn Robinson III, starts at the four for the Wolverines. While he'd be undersized in some systems at just 6-foot-6, John Beilein's preference to go small at the four makes Robinson a perfect fit. He's the fourth Michigan player averaging in double figures at 10.9 points per game and is shooting 63.3 percent on twos. Joining Robinson in the starting lineup is junior Jordan Morgan, who is slowly regaining his form after an ankle injury forced him to miss a couple of games and severely limited his minutes in five other contests. He doesn't score much, but Morgan is a very good post defender and does a nice job of cleaning up the glass on both ends (12.2 OR% and 18.9 DR%).
Mitch McGary comes off the bench and plays 17.1 minutes per game that are often productive. McGary is the team's best rebounder on both ends (16.1 OR% and 20.7 DR%) and is shooting close to 58 percent from the field. Jon Horford, who has battled injuries for much of his time in Ann Arbor, chips in 2.5 points and 2.3 rebounds in 9.2 minutes per game.
POMEROY PREVIEW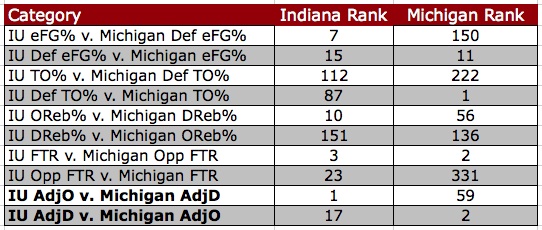 Both teams boast similar offensive profiles. In Big Ten play, Indiana is scoring 1.14 points per possession while Michigan is scoring 1.12. The Hoosiers are the best 3-point shooting team and second-best shooting team on twos in league games, while the Wolverines are the second-best 3-point shooting team and are setting the pace on twos.
The primary difference is that Indiana has played better defensively. Big Ten opponents are shooting just 29 percent on 3-pointers and 45.3 percent on twos against the Hoosiers. Michigan, meanwhile, is allowing league opponents to shoot 34 percent on threes and 48 percent on twos.
One area that ha hurt Indiana in recent games is allowing opponents to hit the offensive glass hard, which isn't an area where the Wolverines are particularly prolific. Michigan enters Sunday's game as the Big Ten's seventh best offensive rebounding team. That number, however, might not hold much weight as Tuesday's opponent, Ohio State, came into Assembly Hall as the league's 10th best team on the offensive glass and caused major problems for IU by rebounding 35.2 percent of its misses.
WHAT IT COMES DOWN TO
Winning on the road is never easy, but Indiana has proved its mettle as a strong road team with a 6-2 record in conference. If the Hoosiers are to win the league title outright, they'll have beaten the three other teams looking to get a share of the title in their own arena.
As important of a matchup as Burke is for Indiana, slowing down secondary weapons like Stauskas and Robinson III was pivotal in the first meeting. Although Burke and Hardaway Jr. combined for 43 points, limiting Stauskas to just 3-of-10 and Robinson to just 1-of-6 was a big reason IU was able to win comfortably in Bloomington, 81-73.
When Indiana plays its best, the Hoosiers are limiting careless turnovers and limiting second chance opportunities. In recent losses, both areas have been problematic and the turnovers could be especially key on Sunday as the Wolverines rarely turn it over themselves (lowest turnover percentage in the country).
As of Saturday night, the Vegas line favored Michigan by one, but Ken Pomeroy predicts a 75-73 Indiana win with a 56% chance of the Hoosiers leaving the Crisler Center with an outright Big Ten championship.
All tempo-free stats via KenPom.com.
Filed to: Michigan Wolverines