Five takeaways from Indiana's loss to Ohio State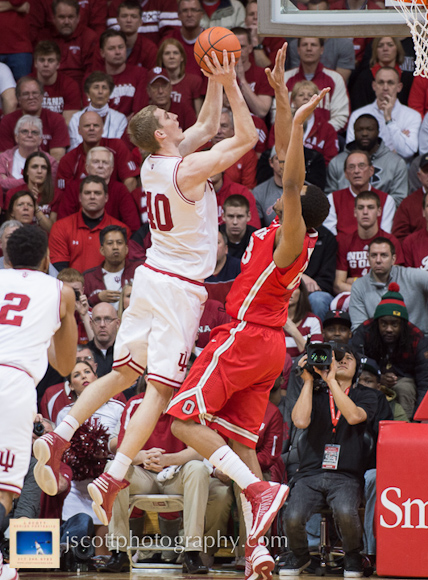 With a chance to clinch an outright Big Ten championship on the line on Tuesday night at Assembly Hall, Indiana fell 67-58 to Ohio State. The loss sets up a must-win game on Sunday in Ann Arbor in order for the Hoosiers to avoid sharing the league title.
Here's a look at five takeaways from the loss to the Buckeyes:
· Beyond Cody Zeller, Indiana was stymied by Ohio State's defense: The Buckeyes have boasted one of the league's top defenses throughout the conference season and it was on full display Tuesday as the Hoosiers struggled to establish any rhythm offensively. Cody Zeller didn't have a great night on the glass, but his 17 points on 5-of-9 shooting and 7-of-8 free throws kept IU in the game. Besides Zeller, the Hoosiers struggled to find other players to make plays offensively. Victor Oladipo played well for a stretch early in the second half, but foul trouble kept him from logging his normal allotment of minutes. Christian Watford managed 12 points, but had a couple of costly turnovers. Jordan Hulls shot the ball well, but couldn't get enough open looks. And Yogi Ferrell (3-of-10) struggled, as did Will Sheehey (1-of-6).
· Indiana never established pace: In the first meeting at Value City Arena, Indiana played the game near its average possession count in conference games, which is 66. Not only did the Hoosiers execute well in the halfcourt in that game, they also scored in transition and were able to build a big enough lead that it forced the Buckeyes to play faster than they would have liked. Tuesday night was a different story as Ohio State slowed the game to 62 possessions and on several instances, the Buckeyes ran the shot clock down and hit key baskets or came up with second chance points after IU had played solid defense for close to 35 seconds. And late in the second half, those successful Ohio State trips were followed by quick Indiana turnovers, which effectively ended any chance of Indiana mounting a comeback.
· Indiana couldn't get to the line: A big part of IU ranking at the top of the country in offensive efficiency is getting to the free line. On Tuesday night, the Hoosiers posted their lowest free throw rate (FTA/FGA) of the Big Ten season. The Hoosiers took 53 shots and only managed 13 free throw attempts. By comparison, IU took 49 shots and 28 free throws in Columbus. Indiana is at its best when attacking off the dribble and creating opportunities at the foul line. That didn't happen Tuesday as IU often drove the ball too deep and then fell victim to the defensive awareness of Aaron Craft and Shannon Scott, who combined for eight steals."They were physical. They're a very good team," Tom Crean said. "We over-penetrated. They were really committed to getting into our drivers tonight."
· Bench production was lacking: It's been an up and down season for IU's backups and for a majority of the conference season, Sheehey has been the team's only consistent contributor off the bench. On Tuesday's, Sheehey shot poorly and missed the front end of two one-and-one's late in the first half that could have potentially given the Hoosiers a lead going into halftime. The rest of IU's bench produced just five points and five rebounds in a total of 29 minutes. In total, IU had seven bench points and Ohio State had 20. On a team that many predicted would have depth as a primary strength, it simply hasn't materialized.
· Craft was a two-way player: Ohio State's point guard is lauded as one of the country's top defenders, a distinction he's earned by playing three seasons of ball-hawking defense in an elite conference. Where Craft has grown recently is his emergence as a player who can knock down shots. His release isn't pretty, but on Tuesday he knocked down seven of his 10 attempts. Craft's 15 points supplemented an average night of 18 points for Deshaun Thomas, the Big Ten's leading scorer. "He made some tough shots tonight," Crean said. "Those are the same shots he didn't make against us. He's so good because he's looking for two things. He's looking for an open lane and if you converge he's looking to hit someone."
Filed to: Ohio State Buckeyes