Craft, Buckeyes spoil Indiana's Senior Night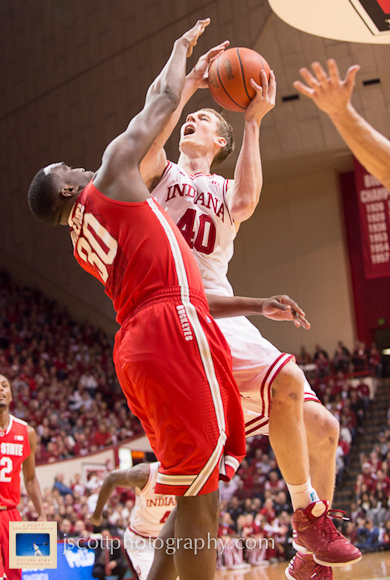 Everything was assembled for Indiana to have the party of the year on Tuesday night. The Hoosiers were playing for sole possession of a Big Ten title — one they hadn't won since 1993 — and against the very team they manhandled just weeks ago at Ohio State. Plus, they were prepared to honor their three seniors, a class of guys responsible for bringing the Indiana program back.
Indiana still honored those seniors after Tuesday night's game, and the Hoosiers can still win a conference title outright by beating Michigan on Sunday. But the celebration was mostly ruined by Aaron Craft and the Buckeyes on Tuesday night.
Ohio State 67, Indiana 58. And suddenly, the Hoosiers aren't a lock for a No. 1 seed any longer.
"This is the epitome of bittersweet tonight," said Indiana coach Tom Crean. "We're trying to celebrate what these guys have earned, and at the same time, we didn't earn it tonight."
Added senior forward Derek Elston: "It felt like too many mental errors were stacking on top of each other. When you dwell on one of those, you're just not playing your game anymore. I think that's what happened tonight."
The Buckeyes are a very good defensive team, but they sometimes struggle because their lack of consistent scorers behind Fort Wayne native Deshaun Thomas. When they get other guys to score, though, they are capable of being one of the nation's top 10 teams.
On Tuesday night, it wasn't just Thomas (who finished with 18 points on 17 shots). Craft, Ohio State's pesky point guard, played well offensively and very much dominated whoever was matched up against him. Craft had 16 points on an efficient 7-of-10 shooting, four rebounds, four assists and four steals.
"We wanted to keep the lane covered on Craft, and he made some tough shots," Crean said. "Those are the same shots he didn't make against us [before]. He's so good because he's really looking for two things. He's looking for an open lane, and then if you converge, he's looking to hit somebody."
Shannon Scott and Sam Thompson also made solid offensive contributions, combining for 17 points on 6-of-10 shooting.
"There were some stretches there where we would play really good 'D' for the whole shot clock, and they'd get a bucket right at the end," said senior guard Jordan Hulls. "Whether Craft hit one off the backboard or a pull-up jumper or whatever the case was, offensive rebound, we just didn't play with that edge that we need to have."
Defensively, the Buckeyes took the Hoosiers out of the things they wanted to do. Cody Zeller had a typical stat line of 17 points and Christian Watford added 12, but Indiana got little from anywhere else. Player of the year candidate Victor Oladipo was saddled with early foul trouble and eventually fouled out with only seven points and four turnovers.
"We said at the start of the second half, he's going to try to take this game over," Ohio State coach Thad Matta said.
But he never did. Oladipo hit a quick 3-pointer to start the final 20 minutes, but struggled to get in any sort of an offensive rhythm because of the different looks Ohio State gave him.
Hulls scored five quick points in the first half, but didn't attempt a second-half field goal until the closing minutes when the Hoosiers were trying to rally. Yogi Ferrell was just 3-of-10 from the field. The bench contributed only seven points, and zero in the second half.
"Obviously we didn't shoot it well, but we had costly turnovers," Crean said. "They played well, both teams played extremely hard, but they played smarter. That caught us. We didn't do a great job of playing out possessions."
Notes
· Big Ten champs?: Indiana had a trophy presentation, received championship hats and cut down the nets after the game. Yes, the Hoosiers have clinched at least a share of the Big Ten title, but cutting down the nets after a disappointing loss seems rather odd.
"We earned that right," Hulls said. "Obviously we didn't like to lose, but we earned the right to cut down the nets."
Added Crean: "There's no question we were going to do that. We're gonna hang our own banner up there, and eventually we're gonna individualize those banners that are up there now. That's what we're gonna do in this program. … Once Sunday night came, that was a given. Whether it's shared, whether it's not shared, they've earned that."
· Emotional farewell: The three Indiana seniors — Elston, Hulls and Watford — delivered emotional speeches after the loss. Hulls' was especially heartfelt, and for good reason. The Bloomington native was overlooked by most Division-I schools and helped resurrect the Indiana program. Hulls was in tears almost from the start, and had everyone in Assembly Hall and watching on TV wiping their own tears away.
"These guys were walking into a train wreck, and they did a great job with it," Crean said. "They'll be better for it, and I think you see that. They've got a great legacy here, there's no doubt about it."
Filed to: Christian Watford, Derek Elston, Jordan Hulls, Ohio State Buckeyes, Tom Crean